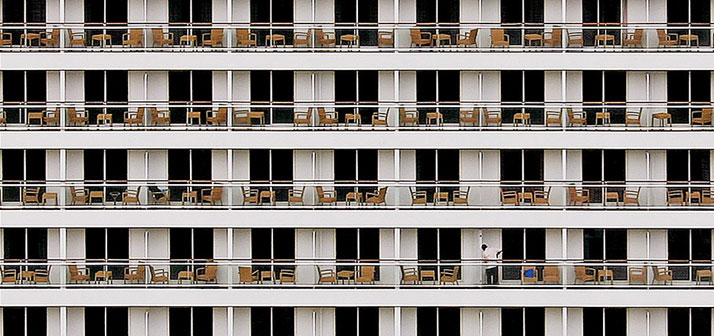 Image: Ádám Zoltán
It doesn't have to be this way.
The balcony, named in the 1600's by the Italians and, in one form or another, likely invented whenever mankind built their first two-story buildings, is by definition a piece of architecture. It is a truly novel idea, a structure that manages to extend an interior room, offer secure, sheltered access to the outdoors, and provide an elevated platform for viewing one's surroundings. In color, form, and style, balconies -- as architectural elements -- can create interesting rhythms and engaging compositions.

Images: Gerry Balding, Chas Eastwood, and Dorris D.
While everything I have just stated is true, it seems a little one-dimensional to characterize a balcony as only a piece of architecture. While a balcony space extends the building interior and is, quite literally, a part of the house, the structure also could not and would not exist without its strong relationship with landscape.
Whether it is overlooking a bustling urban street, a tropical ocean-front vista, or a more familiar suburban gardenscape, a balcony is as spatially and visually reliant on the surrounding landscape as it is structurally dependent on the building walls. As far as the designer is concerned, a balcony falls into a no man's land, or perhaps an everyman's land. The most successful balconies are created when architects and landscape designers recognize the space as both an architectural extension of the garden and a critical, attractive interface between indoors and out.
As a landscape designer who lived far too long in an apartment with only a couple square feet of wrought-iron fire escape to call my "outdoor realm," I want to be clear that the following comparisons intend no judgment. In a typical living situation, outdoor space is a luxury, and what appears to one person as clutter is, to another, just evidence of a utilized outdoor space. With all that said, I have grouped examples of balcony treatments into three main categories, as outlined below:

Images: Villa Afrikana, Jczii, and Daria Angeli
Some homeowners choose to keep their balconies neat, clear, and free of detritus. Advantages of keeping a "spartan" balcony include a sense of openness, the ability to move about freely, and the possibility of focusing visitors' attentions to the surrounding landscape. 

Images: John Hugh Glen, Coralie Mercier, and Louise Best
On the absolute opposite end of the spectrum, there is cluttered or "maximized" balcony. These spaces are easily identified by the presence of overflowing container plantings with sprawling, jungle-like vegetation. In addition to seating, a balcony such as this may also be crowded with other uses, including laundry and household items, pet supplies, and children's toys. In many cases, these overflowing uses are symptomatic of an urban dweller. To some residents, the balcony must fulfill the purposes of an entire backyard.
As with most things in life, there is a middle way with balconies. An approach that is "balanced," one that weighs sensory interest and spatial freedom, is most likely to appeal to the average gardener and homeowner.

Images: Jorge Luis Zapico, Kenji Izumi, and BadAlley
Intentional arrangements of plantings, tidy but still verdant and alive, can bring life to the steel, wood, and concrete of a residential balcony. Softening and screening external views to harsh urban alleys and suburban roadways can be achieved with foliage just as effectively as in a full-scale garden. Pleasant vistas and borrowed views can be frames and emphasized with plant material, furniture, and small objets d'art.

Images: Paul Heneker and StreetLevel
Regardless of how busy or how sparse of a balcony a gardener keeps, what might be easily forgotten is the inevitable impact that a balcony treatment will have on the adjacent interior spaces. While the structure's inherent colors, forms, proportions, and size may be beyond the homeowner's (or apartment renter's) control, many other qualities of a balcony are able to be freely and creatively manipulated.
The miniature outdoor realm we refer to as "the balcony" is yours to reimagine, and there are a number of off-the-shelf products available, quite a few attractive precedents to look to for inspiration, and some truly experimental concepts in the works. With all of these ideas at your disposal, you should find few excuses to settle for a balcony -- even a small one -- that is boring, lifeless, or lacking your personal touch.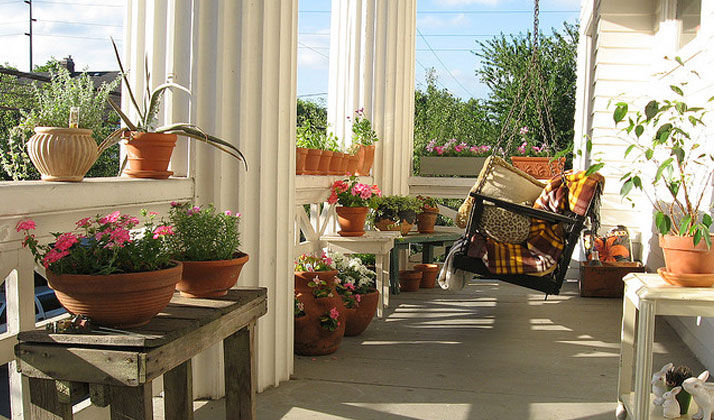 Image: Erik Hovmiller