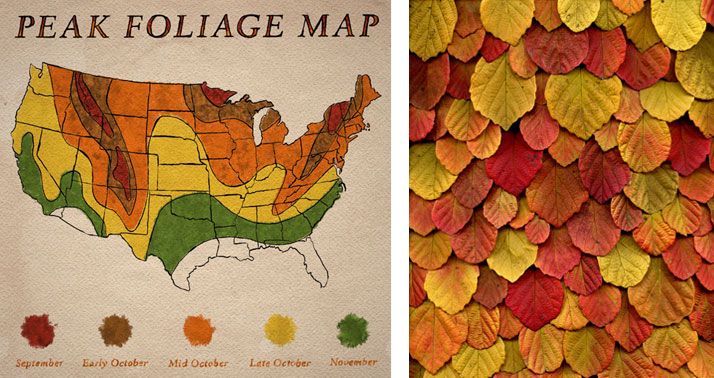 Images: Nature Project and HorticulturalArt
This time of year, it always seems that the trees are vying for your attention.
In autumn, ginkgos, American beeches, and locusts repaint their green leaves into a spectrum of golds and yellows. Sugar maples burst into yellows and reddish oranges, and red maples show off their seasonal color, which is, well, red. Even deciduous conifers, like baldcypress, get in on the action, exhibiting fall foliage that can be reddish orange or even ruby red. Like a fireworks show in slow motion, all of these colors beautifully flare up and then fall, and this seasonal show takes place in front of a reliable, bronze-brown backdrop of oaks and other hardwoods.
With all of this action overhead, it is all too easy to forget about the shrubs below. Autumn has a wide palette of showy shrubs, including burning bush, barberry, and red- and yellow-twig dogwoods, but perhaps my favorites are the two fothergilla species. Just a quick look at the plants' seasonal transformations -- from white flowers to blue-green spring leaves and vibrant, variegating foliage -- evidences an valuable and noteworthy landscape plant.

Images: John Hagstrom and Clemson Extension Home & Garden Information Center
Fothergillas are remarkable, and remark about fothergillas is exactly what Michael Dirr, America's woody-plant guru, does. "Among native plants I have many favorites," Dirr writes, "but (Fothergilla gardenii and Fothergilla major) are near the top." In his Manual of Woody Landscape Plants, Dirr offers a litany of reasons why the fothergilla species and their many cultivars stand strong among native shrubs.
Though the two species differ in height, form and leaf size, they share most landscape characteristics. Offering year-round interest, fothergillas exhibit small fragrant, bottlebrush flowers in April to early May, sometimes before fully leafing out. The leaves, which resemble those of the witch hazel (Hamamelis vernalis) are a robust green in the spring, and then, as Dirr reports from his Athens garden, coloration develops in mid-November.

Images: John Hagstrom, Carex Grayii, K. Brown, and Maggie Hopper
When the leaves begin turning color, fothergillas are at their most striking. Though Fothergilla major is more reliable in vibrancy, both species produce "excellent fall color ranging from yellow, orange, to red," and Dirr notes that this color variety can appear not only on the same plant or same branch but often within the same single leaf.
The height difference between the species is important to understand. Fothergilla gardenii, native to pine savannas and wetland edges of the Coastal Plain, generally stands two to three feet tall in southeastern gardens. Fothergilla major, native to an region of the Appalachians stretching from North Carolina to northern Alabama, grows taller, reaching six to ten feet on average. "No two are exactly alike," Dirr writes, "which adds to their interest."
Michael Dirr heaps a surprising, but deserved, amount of praise on these "great American native shrubs for fall color." Virtually free of diseases and insect problems, fothergillas are a strong candidate to consider adding to your own garden. "Fothergillas," Dirr writes, "ask so little from gardeners, yet give so much; all friends should exhibit this kind of relationship."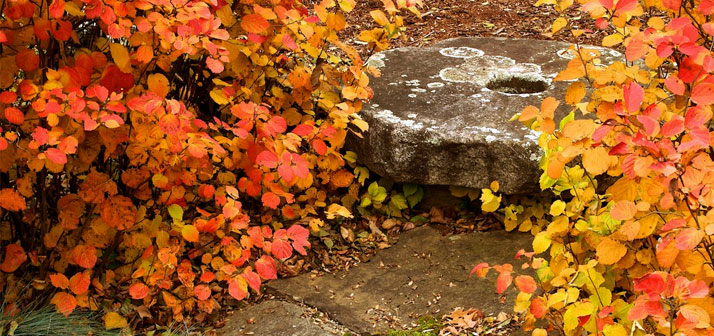 Image: Distant Hill Gardens