My goal in last week's post was to give the reader a clear understanding of wrought iron: its history, composition, and unique aesthetic value. This week I will shine the same spotlight on another type of iron that is often mistakenly described "wrought." The focus of this article is cast iron.

Images: Stephani Bachman and Cattoo
I admit that it is somewhat strange to think about cast iron as a "new" technology, especially as its first appearance for structural purposes roughly coincided with the birth of our nation. In the scheme of things, however, iron has been with us for several thousand years, and we have only known how to efficiently cast it for a few centuries.
The development of the cast iron process was a huge leap in technology. Whereas every single component of a wrought iron structure had to be heated until red hot and then laboriously hammered, twisted, or bent into a desired form, the technique of casting iron is comparatively simple. Only one original object – a fence post, a manhole cover, or a frying pan – needs to be created. From an original, heat-resistant molds are then made, and finally, molten iron is repeatedly poured into these molds and allowed to cool, thus replicating the original form over and over again. For this reason, the casting of iron was as much of a breakthrough to metalwork as the development of the printing press was to the written word.
The trick, the only thing that had hindered this process from coming around sooner, was the availability of lots of coal and the design of a furnace that could get hot enough to liquefy iron.
It was in the late 1770's that perhaps the first large-scale iron structure was built near a town fittingly named "Coalbrookdale." This structure, known officially as "The Iron Bridge," was constructed by several trailblazers in furnace technology. The bridge was built to span a 200-foot gorge, and though it was completed in 1779, it still stands today.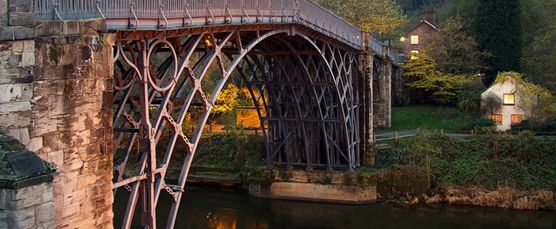 Image: Phil Parsons
Cast iron structures are modular; they could be put together from a repeating combination of prefabricated components. At that time, bolts were not common place, so the cast iron was fit together much like wood joinery, which was the only structural precedent the builders had to look to at the time.

Images: R. P. Marks and Pete Reed
Like wrought iron, the aesthetic and stylistic properties of cast iron have been influenced, if not defined, by the process that makes them. The repeating cloned process is capable of capturing intricate details and complex patterns that a blacksmith would dread hammering, and it almost always does so without monotony, as I have never seen a cast iron fence that I found monotonous or boring. It is in this detailing that a piece's quality becomes apparent. When compared to modern, off-the-shelf cast iron patterns (which, these days, are actually more often hollowed steel or even aluminum) there is a major gap in richness. When comparing fences, they seldom have the sturdy, hefty posts and detailed bevels, motifs, and forms that were incorporated in cast iron fences up until the middle of the twentieth century.

 Images: UGArdener and Torrey Wiley
Whether cast or wrought, ironwork has a considerable impact in the landscape. In both residential and urban settings, this material, and the many shapes it can take, states with pride that it is of an earlier time. Sometimes it is stated in the sense of style or craftsmanship, detailing done in a level of quality and skill that has been all but lost. Other times the age of the piece can be biologically determined, by looking at a century-old tree trunk that has fused itself into the rails and pickets of a fence.
The tree, of course, yielded to the metal frame of the fence because it is a growing organic organism, but I feel that this phenomenon serves as a symbol in the landscape. Just as this grotesque growth proves that the fence predates the centenarian tree, it will likely outlive those people that have enjoyed its beauty. Ironwork lends character to a landscape by speaking to a visitor in a language that is rare, but understood by all. In the landscape ironwork speaks of an earlier time.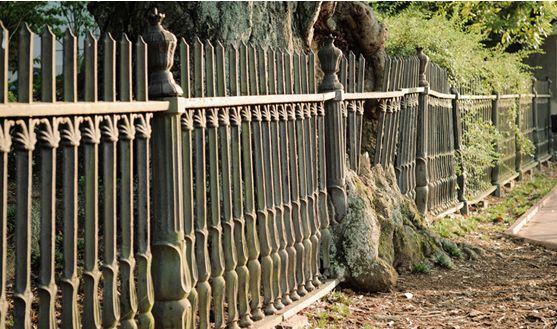 Image: Peter Hawman
By Sam Valentine, BLA, LEED AP