As it's a new year, I will use this post to clear the table for fresh, new topics. Looking back on my travels through the city and country landscapes of Italy (and the dozen posts through which I discussed them here), there is something that clearly unites these places; it's called "character." It comes as a surprise to no one reading this that the gardens and towns of Italy have character, but after seeing these five-century-old landscapes with my own eyes and walking them with my own feet, I feel I have an improved grasp of what elements, precisely, form this quality.
A quick caveat: defining landscape "character" quickly crosses into subjectivity. My goal is simply to collect a few traits that are perhaps intrinsic.

Images: Rick Lawson, Michaela Good, and Edoardo Frola
Wear
Whether by weather or by repeated contact with human hands and feet, a landscape object that shows a bit of wear signals that it is in for the long run. A shallow shoe-rut in a brick step, battered edges of a salvaged cobblestone, or a hand-worn wooden gate implies a landscape that, perhaps like a familiar baseball glove, is worn in but not worn out.

Images: Wayne S. Grazio, Johnathan Nightingale, Adam Winsor, and Jamie & Marina Berger
Patina
In the landscape, nearly all metals oxidize. Steel's form of oxidization -- more commonly known simply as rust -- is usually not something to aspire to. In the wrong places, rust leads to structural failure and safety concerns. Some iron-based metals, though, handle rust differently than raw steel: stainless steel resists oxidization while Corten steel and wrought iron can develop a rust layer without compromising structure or function.
The green and blue oxides, usually the patina of choice for garden aficionados, come with the presence of copper. When exposed to the elements, bronze, brass, or other copper alloys produce the painterly hues found on the Statue of Liberty and old pennies.
While a scientist may be less likely to apply the word "patina" to non-metals, the visible staining that develops on many garden stones and ceramics is another contributor to strong landscape character.

Images: Diana L. Lyons, Jon Seekford, and Al Disley
Variation
Tourists to Rome find mystique and magic walking down its ancient streets. Surely this distinct urban character is the product of many qualities coalescing, but it is no coincidence that every one of these streets is lined with walls of mismatched brick and stone, incongruous pavements, and fences and doors of crooked boards.

Images: Michael J. Babcock, Jr., Ed Brownson, and Samuel Rolo
Life
Interplaying with each of the above characteristics, the distinct verdancy of life lends character to a landscape like nothing else. Traces of vines, mosses, lichens, and even algae paint hard surfaces with a family of greens and make clear that the landscape is well established. In the world's richest landscapes, the lines between hardscape and nature are allowed to harmonize and to blur.
Authenticity
By amping up wear, patina, variation, and life in a landscape, one can encourage the visible cues of age, and induce and reinforce the development of character. It is, however, worth noting that authenticity is the sister (if not mother) of character. The use of honest building materials is critical for graceful, natural aging, and engaging a skilled designer will help to make balanced decisions when it comes to the use of such materials as stone veneer and vinyl "wood" members.
To be clear, Italian gardens have a lot more going for them than merely grime and fine aging, and as discussed in my last few posts, these landscapes were masterpieces of art and experience even on the days they opened. However, a bit of grit united everything that my eyes were drawn to in Italy and there is no reason to think that new American landscapes cannot reach towards an established "Old World" character.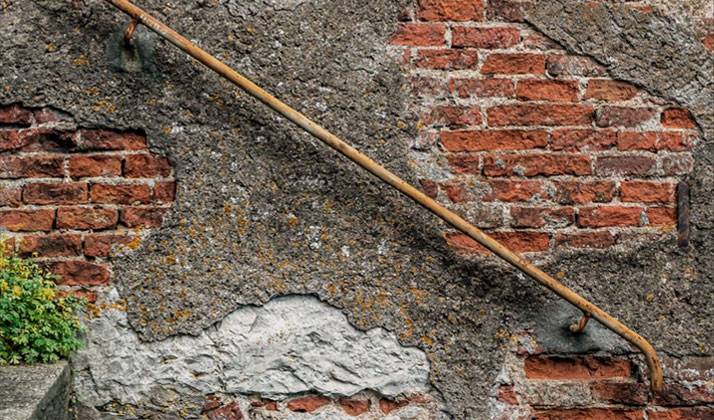 Image: Joseph Yvon Cote