This post is the second in a series of three articles that examines Fallingwater, a work of residential architecture and landscape design by Frank Lloyd Wright.
When discussing the life of any historical figure, the individual's experiences, by necessity, are abridged, condensed, and often tidied up. Though Frank Lloyd Wright's life is generally streamlined by those discussing his body of architectural work, it should be understood that at the time Edgar J. Kaufmann commissioned Wright to build his family's home, the architect had already lived a long and quite complicated life. At the time his office started work on Fallingwater in 1934, Wright already had nearly fifty years of architecture under his belt, was married to his third wife, had abandoned one of his families, had lost loved ones to an axe murderer, and had already published the first edition of his autobiography.
Decades earlier, furthering the principles and methods of the international Arts and Crafts Movement, Wright had built his career by helping to establish the Prairie School, a horizontally dominant architectural style that borrowed influence from the flat, treeless landscapes of the Midwestern United States. At Fallingwater, Wright and his firm would implement details that can certainly be associated with the Prairie School, but Fallingwater is one of Wright's works that signals not so much an abandonment but a graduation from the Prairie Style. At this point in his career, one of Wright's underlying tenets was that a work of architecture should be harmonious with nature, should take hints and inspiration from the landscape, and should be thought of – along with its surroundings – as part of a unified composition.
Like any client hoping to build a home near an attractive natural feature, Kaufmann wanted his new house to capture views of the Bear Run falls. We can assume that the client was expecting the house to be situated in such a way that it would overlook the waterfall, and that perhaps his family might even be able to hear the distant sound of rushing water. After paying a visit to Wright's studio, though, Kaufmann looked over the plans and realized that the architect had something else in mind entirely.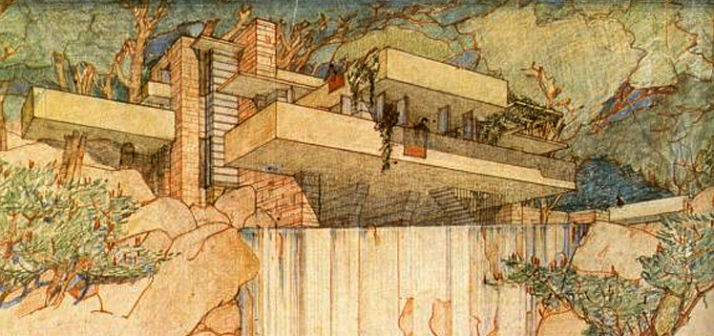 Image courtesy of Frank Lloyd Wright Foundation Archives
"I thought you would place the house near the waterfall, not over it," Mr. Kaufmann said with surprise. Quietly, Wright replied, "E. J., I want you to live with the waterfall, not just to look at it, but for it to become an integral part of your lives."
Today, Fallingwater stands as a testament to Wright's organic design philosophy, his pioneering construction principles, and his office's unparalleled attention to detail. In its broad strokes, the building is a series of concrete cantilevers, anchored into the face of a stone ledge and bravely protruding over the natural stone tiers of the Bear Run falls. In the finer details, it is a treasure trove of custom-crafted ornamentation and furnishings that, among other influences, borrows inspiration from both the Arts and Crafts Movement and Japanese building traditions.

Image:( Dennis Crews
When viewed singly, the various pieces that make up Fallingwater are beautiful and admirable, but Fallingwater is much more than the sum of its parts. Studied as a unified composition, it is a true masterpiece. Only a year after it was completed, Fallingwater joined Wright on the cover of Time Magazine, and to this day it is still one of the world's most recognizable and beloved works of American architecture.
Author: Sam Valentine, BLA, LEED AP