This post is the third in a series of three articles that examines Fallingwater, a work of residential architecture and landscape design by Frank Lloyd Wright.
They say that a picture is worth a thousand words.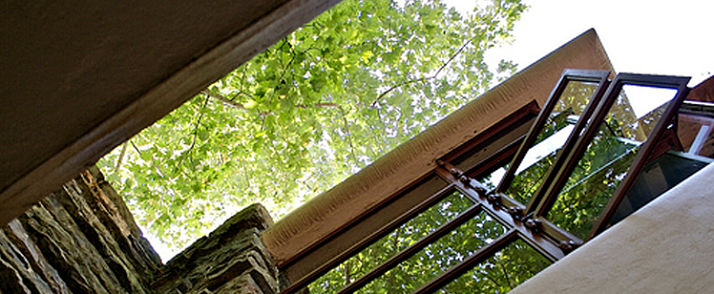 Image: Patrick Gage Kelley
I would argue that, if looking at a still image is indeed capable of conveying so much meaning, then visiting a built environment is worth at least a million words.
While visiting Pittsburgh, Pennsylvania a few summers ago, my family and I were able to take a daytrip to experience Fallingwater for ourselves. As we crept away from the city, the traffic, and the highways we found ourselves increasingly immersed in land of wild, mountainous forests. Amidst these venerable natural surroundings, I stepped out of the car at Fallingwater, and found a designed environment of richness and sanctity that no words, images, or films had ever been able to convey to me. In short, I found much more than I was expecting, and I was expecting quite a bit.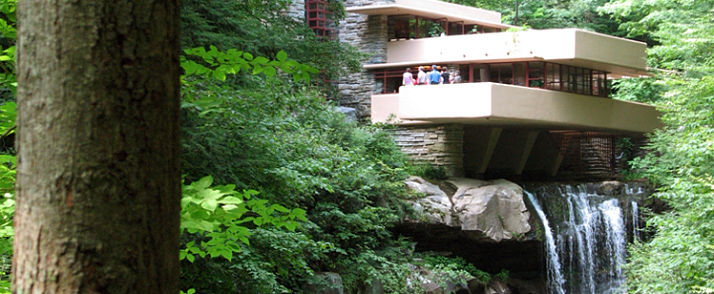 Image: Sam Valentine
After a short walk, I was standing downstream from the house, perched at the "overlook" that provides the most consummate (and probably most repeatedly photographed) vista of Fallingwater. The view is simply breathtaking, and it stirred within me a feeling reminiscent of a puzzle piece snapping into place. To grasp the design genius of the building one must see the composition of cantilevered planes jutting out over the native stone ledges and hear Bear Run rush under the house and over the falls. This single vantage allowed me to do both simultaneously.
The view from the overlook is certainly something to remember, but for me, it is Fallingwater's smaller details that are most impressive.

Images: Via Tsuji, Western Pennsylvania Conservancy, and Sam Valentine
It is in its intricacies, the types of finer details that most homebuilders cannot make time to carefully address, that Fallingwater had the strongest impression on me. Thanks to Edgar Kaufmann's seemingly bottomless pockets, Frank Lloyd Wright and his team of designers had the liberty to intently consider and custom-fabricate everything from window mechanisms to light-switch coverplates.

Images: picturethecity and Via Tsuji
Every aspect of Fallingwater is the product of inspiration, invention, and careful implementation, and with so many levels of design, it is necessary to visit the building to comprehend its genius. Several architectural features demonstrate a fulfillment of Wright's organic vision, and while many of Wright's earlier works employed a continuity between the natural exterior environment and the interior living spaces, at Fallingwater it is sometimes hard to determine exactly where the home ends and the rocky, woodland landscape begins.

Images: Sam Valentine
If you have never seen it with your own eyes, put "visit Fallingwater" on your bucket list. If you value design, nature, and architecture, I feel that it is imperative to experience the work before the end of your life. But honestly, I would not wait until then. Make a trip to Western Pennsylvania before you begin your next remodeling, building, or gardening project. You will leave Fallingwater with information, inspiration, and a heightened awareness of the possibilities of designing with nature.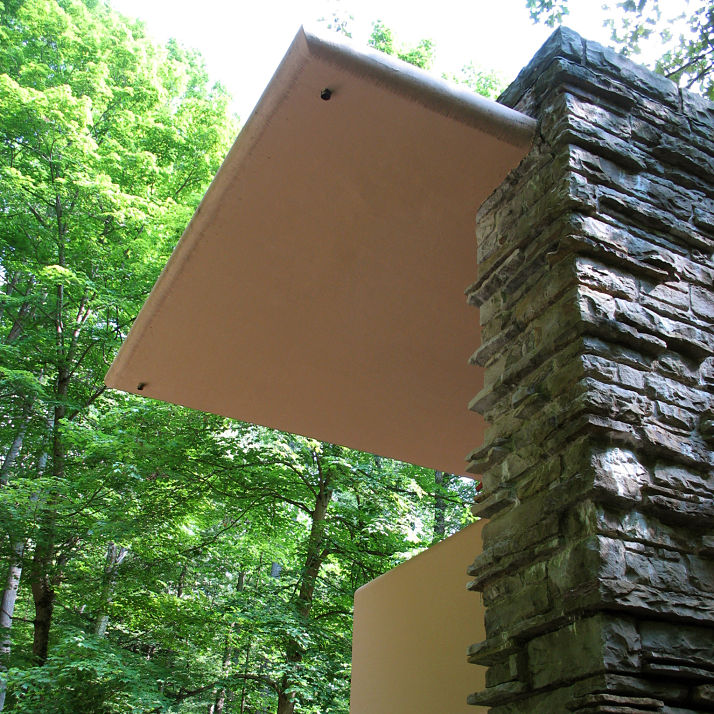 Author: Sam Valentine, BLA, LEED AP