| | |
| --- | --- |
| Posted by Stuart DiNenno on October 3, 2008 at 9:31 AM | |
Fall is perhaps the most underused season for gardening, but it is a great season for putting in vegetables.  Cooler nights, bright sunny days and (we hope) more rain make for ideal conditions for late season growing.
Some common late vegetables are in the salad and cabbage families.  Typically you need something that will mature quite quickly so avoid long growing items like brussel sprouts, and concentrate on leaf lettuce, kales and young cabbages.  Most of the major stores are selling starts for common vegetables, but it is possible to start your own as the warm soil will aid fast germination. Kales, brocolli and carrots can taste even better after a couple of light frosts so they make for excellent fall growing.
Mustards and other great tasting meslum mixes will germinate and mature in just 45 days or so which is great for the south.  Most of them will also continue past a light frost.  Lettuce mixes that give red and green lettuces are also good choices.
More substantial vegetables like baby carrots and fillet beans can be grown in about 60 days which is quite possible if you start them early October.  But you may need to throw some protection over these if we get cold nights. 
Renee Shephard has created a simple garden design for fall vegetables:
http://www.reneesgarden.com/hm-gardnr/resource/long-season-garden.pdf
A small raised bed can grow quite a substantial amount of produce and is easy to protect as well.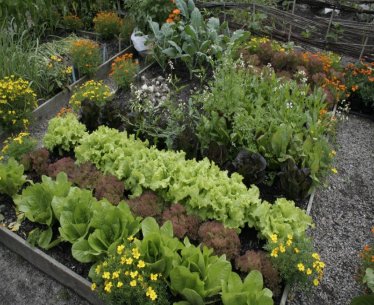 So go ahead and start some fall vegetables and enjoy the harvest in just a few weeks.