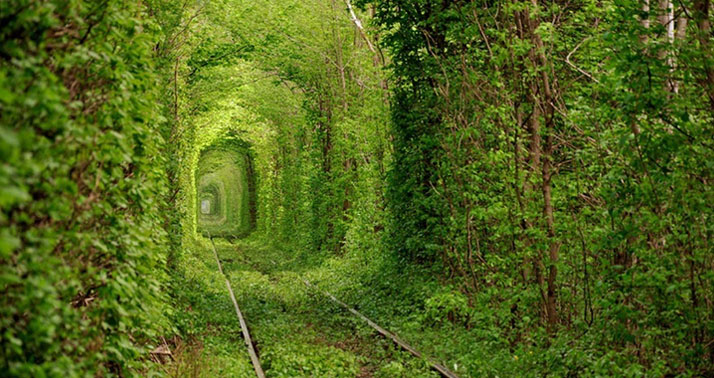 Image: Reza Ahmed
Honestly, figuring out what to call them is the hard part.
They can take the form of intricately constructed, vine-covered wooden arbors, or they can be created organically by wild, swooping tree branches. Sometimes they are formed by two flanking rows of stout, stately tree trunks, and other times they are simply carved out of a leafy shrub thicket. I find terms like "arbor," "tunnel," "breezeway," and even "covered walkway" to be too narrow in meaning, and the architectural term "hallway" -- which all too often refers to the uninspired, leftover space of a building's floorplan -- certainly falls short of describing these engaging landscape features.

Images: Bill Barber and Kev Bailey
Though these "passageways" (for lack of a better term) are analogous to interior halls, as they also serve as corridors for passing from one "room" to another, there is an important distinction to be made here: While building hallways are all but an architectural requirement, garden passageways are a rarity. In conventional Western floorplans, there is little option but to provide an access corridor to living spaces and other rooms, and a hallway's skin is arguably just the byproduct of walling off those rooms. In the landscape, though, a screened or covered corridor is something that is far from granted. More often than not, landscape passageways are carefully considered and laboriously maintained features.

Image: Rafi Schatz and Sam Valentine
When building a garden passageway, a designer must carefully consider the placement, alignment, length, and width of such a feature. Will a conventional allée of trees provide sufficient structure, or must external views and harsh sunlight be more densely screened with a tight-knit vine structure? Does the garden aesthetic call for a formal, architectural solution or a looser, wilder scheme?
Garden passageways have powerful potential. From a visitor's first step to their last, the corridor is a special moving experience. The overhead tapestry can offer up a remarkable contrast of illuminated green leaves and deep-green leaves in shadow. The long, continuous barrel-vault effect can put focus on a distant axis, and the visitor's eye is strongly pulled ahead to the light at end of tunnel. Also, in the shade of the passageway, a gardener will find a microclimate of cool, refreshing stillness that refreshes on a hot summer day.
Like squeezing grains of sand through the neck of an hourglass, building such an elongated portal prescribes a period of controlled but pleasant moments for a garden's visitors. Like putting blinders on a horse, a garden passageway turns down the visual volume of other input and mutes distractions. A visit to Central Park or Prospect Park in New York City will prove that Olmsted and Vaux not only understood the value of such structures but also masterfully employed them to conceal, reveal, and create a sense of drama in their landscapes.
Memorable landscape passageways are not always a product of intentional design. A few weeks ago, while I was investigating the disappearing ruins of the Georgia Brick Company, which can be found at Sandy Creek Nature Center in Athens, I was surprised to find myself in something of an accidental landscape passageway.

Images: Padcoak1 and Trinity Simons
Neither manmade nor natural, or more precisely, a combined product of both, just enough of the ruins survive to tell a pretty clear tale of industry, abandonment, and encroaching wilderness. Nearly a century ago, the factory's stories-tall smokestack toppled over, and today, a dozen yards of its cylindrical form still holds together horizontally in the woods. As I slowly, cautiously stepped through it, I found myself -- just for a moment -- in an quiet world of cool isolation and self-reflection.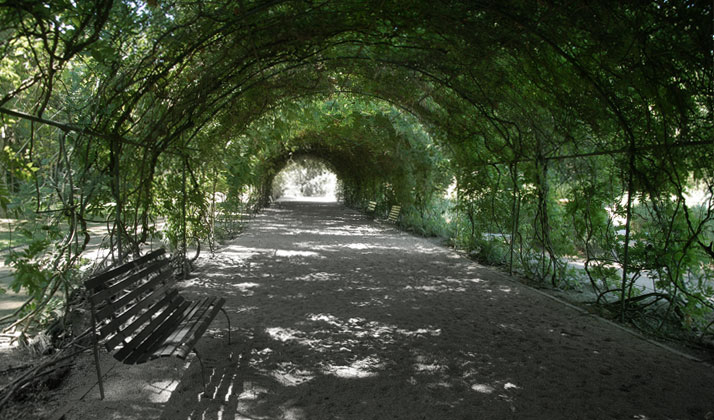 Image: Natalie Townsend
Author: Sam Valentine, BLA, LEED AP