Really, it was not all that long ago that I first visited Dumbarton Oaks in the Georgetown neighborhood of Washington, D.C. My first visit, however, made in the summer of 2006, occurred early enough in my design training that I did not know how foolish it would be to not bring a camera along.
Over the years since, the inspiring elements that I observed in just one day in the estate's gardens have come bubbling up from my memory time and time again; detail after detail and scene after scene. Sited on a dramatic hillside, one that might have proven too challenging to some landscape designers, this garden was adeptly and seamlessly woven into the natural woodland slopes by landscape architect Beatrix Jones Farrand. The estate, which is now home to the Dumbarton Oaks Research Library and Collection, a satellite institute of Harvard University, is kept in pristine condition. From its architecture to its plantings to its carefully planned viewsheds, Dumbarton Oaks is impeccably preserved and maintained but done so in a way that allows the materials -- stone, brick, and wood -- to show the rich character that comes only with age.

Images by Sam Valentine
Moving through the various, distinct garden rooms and walking down the shady allées and shrub-lined walks is an experience that I found surprisingly sensory. As a visitor descends from the ficus-covered orangery and the main house's sunlit terraces, he or she experiences shifting environments that range from full sun exposure to intensely cool shade. Beneath a visitor's feet, Dumbarton Oaks' groundplane cycles through soft turf surfaces, cut stone, pebble mosaics, and complex brick patterning. At any given moment, to the left and right, above and ahead, a visitor is presented with a meticulously maintained composition of verdant groundcovers, blooming bulbs, vines, and perennials, and stately, ancient trees.

Images by Sam Valentine
Much in the same way that there is simply too much ground to cover in just one day at Dumbarton Oaks, it is impossible to try to describe my visit in one blog alone. You can expect future posts to cover a breadth of topics, including Farrand's masterfully executed transition from architecture to wilderness as well as the garden's inventive, temporary, and contemporary art installations.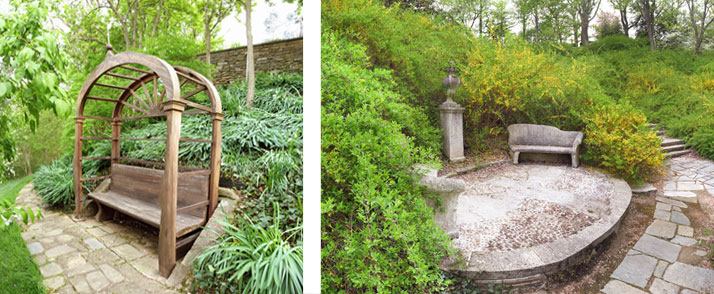 Images by Sam Valentine
If you are reading this blog, it is fair to assume that you are both a lover and a student of gardens, and if that is in fact the case, you have most likely read or at least heard about this legendary American landscape. But if you have not yet visited Dumbarton, my best advice is to waste no time in planning your trip. And when you get there, do your best to be a 'sponge,' soaking up such things as the careful siting of outdoor spaces, the clever strategies for steep slopes, the finely crafted details, and the thoughtfully selected plant material.
On a cool, crisp, but sunny Saturday last weekend, I was able to make a second trip to Dumbarton Oaks, and after years of recalling the garden's inspiring elements by memory alone, this time I was wise enough to bring my camera. From the showy, intricately carved stone ornaments to the naturally picturesque woodlands, it was tough to find even a speck of the garden that did not seem to have been conscientiously considered and gracefully designed. As I moved through such aptly named spaces as the Pebble Garden, the Ellipse, Forsythia Dell, Prunus Walk, and Lovers' Lane Pool, I only photographed the features and moments that struck me as inspiring. I did not shoot recklessly, but I did want to capture those elements that I found especially well crafted, dramatically sited, or otherwise beautiful. When I got home I realized that, in just about two hours I had made up for years of lost time: I had taken over four-hundred photographs.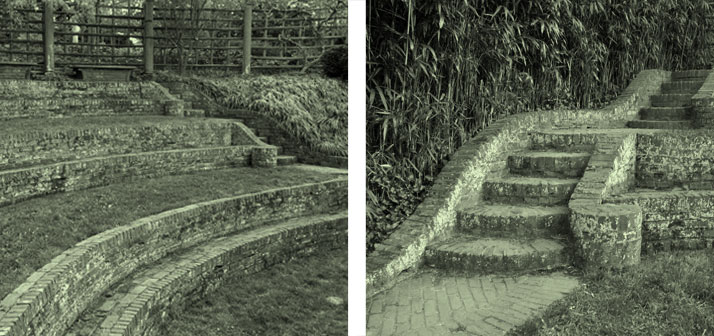 Images by Sam Valentine