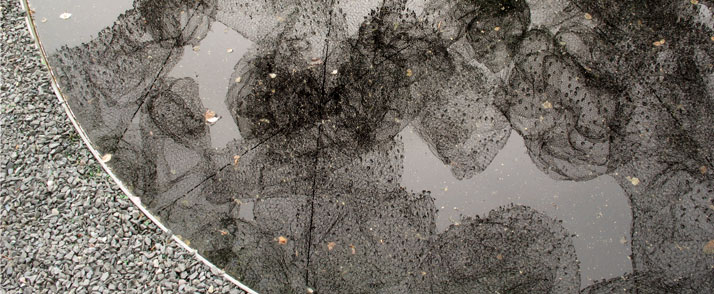 Image: Sam Valentine
Not all of the beauty, elegance, and visual interest that today's visitors encounter at Dumbarton Oaks is a product of a bygone era. The renowned hillside estate's gardens, its dramatic vistas, and its intimate choreography of outdoor rooms were created by Beatrix Farrand and a legacy of 20th-century landscape designers that followed her. Whether considering its fine details or overall composition, it is undeniable that Dumbarton Oaks is a unique, historic work of art. However, upon my recent visit, I was pleasantly surprised to find that Dumbarton also serves as a landscape in which one can experience fresh, contemporary artwork.
My first hint of the gardens' contemporary art offerings was a distant, perplexing form that caught my eye as I approached the Ellipse. Paper wasps weave their nests from gathered wood fibers and plant stems, and if not for the great scale of the structure I was staring at, I might have mistaken it for such a nest.

Image: Sam Valentine
At closer inspection, the structure was a wildly swirling assemblage of branches, stems, and vines. Sited on the edge of the formal, elliptical lawn, the organic vortex emerges from an imagined root system in the lawn and winds its way through the air and seamlessly into the canopy of the double-rowed American hornbeam (Carpinus caroliniana) hedge that surrounds the Ellipse. It was only after returning home to my computer that I ascertained that the single sculpture that I observed is actually the last remaining figure from a larger, site-specific work called "Easy Rider" that was created by Patrick Dougherty in 2010.

Images: Sam Valentine
Eventually I departed the Ellipse for some of Dumbarton Oaks' other enticing garden spaces, and I enjoyed about a half-hour of inspired wandering before coming into contact with the gardens' other current installation. During my late-April visit, all of Dumbarton Oaks -- as well as much of Washington, D.C. -- was abloom with the violaceous, lavender blossoms of wisteria vines. My awareness of these chandeliered flowers was especially heightened as I approached the historic Wisteria Arbor, and then looking east, I was surprised to find myself under a billowing canopy of another sort.

Images: Sam Valentine
Historically known as the Arbor Terrace, one of Dumbarton Oaks' enclosed gardens has been transformed by Cao | Perrot Studio into an environmental artwork: "Cloud Terrace." The work's defining feature, an undulating, airy canopy, is constructed of surprisingly down-to-earth materials -- galvanized steel poles, tensioned steel cables, and crumpled puffs of chicken wire -- and extends to form a ceiling over the room. Suspended from these cumulous forms like many raindrops on the verge of falling are 10,000 Swarovski Elements cut-glass crystals. Even despite the identifiable materials that went into the work, the composition is surprisingly, and powerfully, cloud-like.
Both of the works that I observed last month are parts in a series of rotating contemporary installations at Dumbarton Oaks. The works were stimulating, interesting, and in their own ways quite beautiful, but the contemporary interventions did nothing to outshine the beauty of the historic landscape. And that, I feel, is exactly how it should be. If the footprint of these temporary artworks, as well as their zones of visual impact, were calculated as a percentage of the total estate gardens, it is unlikely that they would surpass even five percent of the Dumbarton Oaks landscape. Likewise, the impression that these isolated contemporary moments would have on a first-time visitor is probably minimal; the underlying garden steals the show.
The incorporation of modern features into a historic setting is never without risk of controversy, but the harmony found between the old and new artworks at Dumbarton Oaks is something to strive for. The artistic interventions are unobtrusive in size and placed in well selected, enclosed sites that prevent the works from visually "spilling out" into the estate's larger historic fabric. By including the temporary exhibits of contemporary artists, the garden is functioning quite intelligently, and narrating on multiple levels. Repeat visitors are seeing a familiar landscape in a new light, and the gardens are allowed an impermanent but invigorating breath of fresh air. All gardeners, I think, could agree that that is a beautiful thing.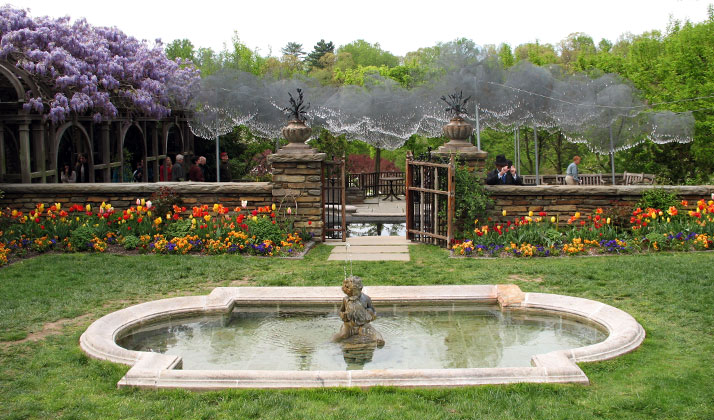 Image: Sam Valentine