Image: Porky Hefer
To be honest, this all might seem a bit cuckoo. Actually, that might be a pretty appropriate word for it. Across the continents, there is a small but burgeoning movement to install manmade "nests" in backyards, woodlands, and at scenic vistas.
At first glance, these organic, woven-twig objets d'art seem aesthetically aligned with the earth-based sculpture of Patrick Dougherty and other artists; a reader may remember my description of an encounter with one of Dougherty's deceptively "natural" works at the Dumbarton Oaks Ellipse a few posts back. While there are undeniable structural similarities, these objects are more than just sculptures or architectural follies. What makes these "nests" unique is their specific intended function.

Images: Porky Hefer, Jayson Fann, and Drew Kelly for the New York Times
These manmade nests are designed to be inhabited. Often perched at or just beneath the forest canopy, these structures have been envisioned as naturalistic shelters for sleeping, meditation, and sanctuary. In the United States, it seems that Jayson Fann, based out of California's Big Sur Valley, is the pioneering guru of the moment, and his studio provides information about overnight lodging and sells custom-installed "Spirit Nests" for delivery to your garden. Even if a possible user sees no spiritual significance in sleeping as wildlife does, the prospect of retreating to and awakening in an environment consisting entirely of organic forms, materials, and geometries should be universally enticing.

Images: Jayson Fann and Liz G.
It was a New York Times article, "Twigitecture," and its accompanying photo slideshow that first exposed me to these human nests, and since seeing the piece a few weeks back, I have found the concept to be creative, strange, and not quickly forgotten. As far as reconnecting with nature goes, it seems that a night one of these nests would put conventional tent camping to shame. With no synthetic screening, fabric, or zippers between the inhabitant and the outdoors, a man or woman could find the ultimate (though temporary) escape from the artificial, and sometimes wearisome, environments that civilization has created.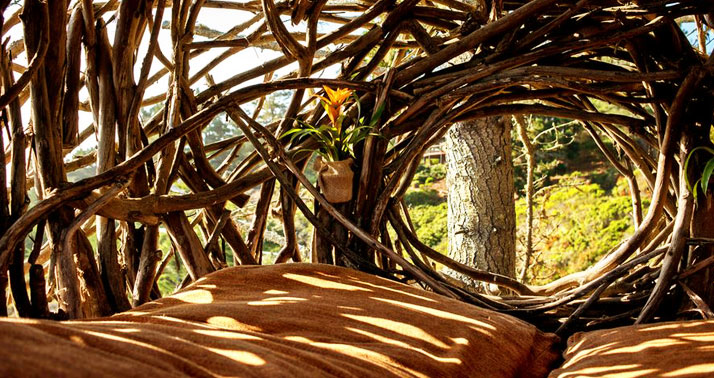 Image: Drew Kelly for the New York Times