It's always a challenge to know what plant to put in my garden. I find something that looks just awesome in the nursery but seems to fade with time once planted in my yard or simply takes too much work to maintain. Even though I've learned all those gardening "rules" about selecting plants that work for our environment and putting them in the right place, I am still often disappointed by how some of my plants perform.

If you want to stop wasting time and money on plants that don't work in your garden, take a look at the Georgia Gold Medal Winners.  The Gold Medal plant program takes all the guess-work out of finding superior plants that perform in Georgia. Horticulture staff from the State Botanical Garden of Georgia and University of Georgia, along with local growers, have done all the research, testing plants for how they will thrive here and then selecting those that are the best of the best. Winners are chosen in five categories, Annuals, Natives, Perennials, Trees and Shrubs and Vines and Groundcovers.

If you select a plant chosen as a Georgia Gold Medal Winner, you will not be disappointed!  It's about the best guarantee you are going to get that your plant will thrive in your garden with less fuss and pest issues. 

The Georgia Gold Medal Winners have been selected for 2013 and you might as well shop for them now and plant them (except annuals) this fall.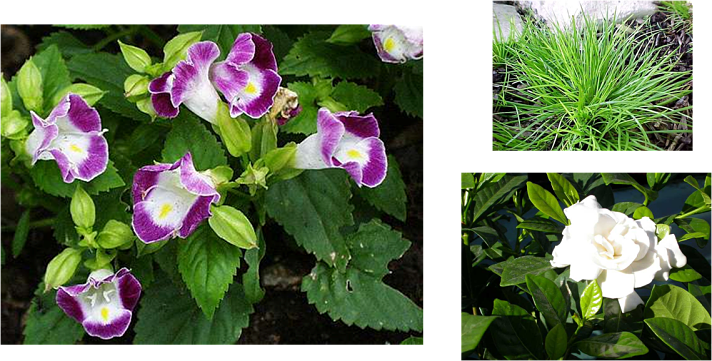 Left: Wishbone Flower; Top right:: Sweetflag; Bottom right: Gardenia (Images by Missouri Botanical Garden)

Annual Winner: Wishbone Flower (Torenia fournieri) – You don't often find such vivid flowers blooming in shadier spots but the cheerful, bi-color torenia thrives in shade and adds whimsical interest. This annual is sometimes called "clown flower" because of its multi-colored face.  The bushy torenia only gets about 6-12" tall and does not have to be deadheaded – another plus for busy gardeners.

Groundcover/Vine Winner:  Golden Sweetflag Grass (Acorus gramineus 'Ogon' and 'Minimus Aureus') – This miniature yellow grassy plant spreads by creeping roots, making it an excellent choice for a groundcover. As an added bonus, the foliage is fragrant and deters deer!  This groundcover does best in light shade in our climate. Sweetflag is also a nice addition to a container, paired with blooming plants for each season.
Trees/Shrub Winner: Compact Gardenia (Gardenia jasminoides) – Every Southern garden needs this lovely evergreen shrub or two or three or more! It only gets about 3 feet tall and wide and can be planted in full sun to part shade and tolerates a variety of growing conditions.  The luscious white blooms provide a subtle fragrance, so plant near where you enjoy sitting outside. I will admit, however, that I have "issues" with gardenias. They often have a yellow leaf drop. (I am going to try Epsom salts and Ironite for this issue) and I often deadhead the spent blooms because the brown and dried blooms stay on the shrub a while and don't look so great. But the fragrance seals the deal for me!
Left: Muhly Grass (Image by Bonnie Helander) Right: Variegated Solomon's Seal (Image by Perennial Plant Asso.)

Natives Winner: Muhly Grass (Muhlenbegia capillaries) – A few years ago when visiting Athens for a UGA football game, I noticed a garden bed that contained a swath of shimmering pink grasses swaying in the breeze. I was so "wowed" by the sight that I pulled over to see what it was.  And, yes, it was pink Muhly grass – a show stopper in autumn!  During fall, the pink inflorescence (flowers) on the green foliage catch the sun and just sparkle. Plant it in the sun where it can take center stage for fall interest.

Perennial Winner:  Variegated Japanese Solomon's Seal (Polyganatum odoratum variegata)  I love variegated plants that provide color and interest in foliage and also have blooms and variegated Solomon's seal does not disappoint with its cream stripes on green leaves and its aromatic bell-shaped flowers that pop up in the spring. Plant in your woodland garden in shade and divide it when you want more plants to spread around. This plant was also named the 2013 "Perennial Plant of the Year" by the Perennial Plant Association, so it is a double trophy winner.
I continue to add Georgia Gold Medal Winners to my garden. Some of my favorites include the Oakleaf hydrangea, Chinese snowball viburnum, tea olive and American beautyberry. If you are planning a new garden bed or working with a landscape designer to come up with a design, consider adding some Georgia Gold Medal Winners. You won't be disappointed.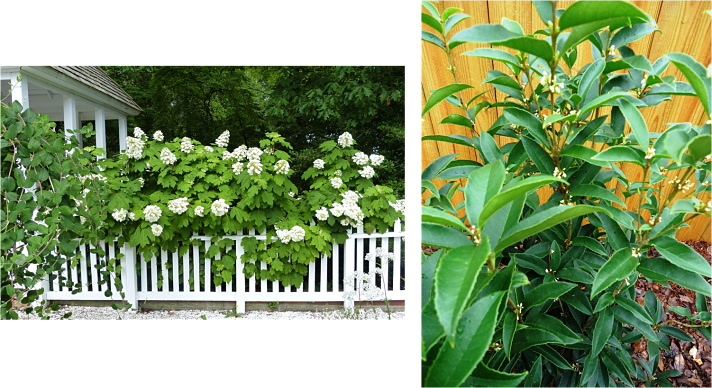 Left: Oakleaf Hydrangea; Right: Tea Olive (Images by Bonnie Helander)

Left: Chinese Snowball Viburnum; Right: American Beautyberry (Images by Bonnie Helander)