Every single day, visitors flock to the world's oldest cities to consume the authentic and antiquated sights, sounds, and cultural offerings. Strolling the streets of a venerable urban environment, one finds him- or herself transported to another way of life and to an earlier time period. This sensation stems from an immersive composition that can be perceived on all sides, overhead, and underfoot. While it might be the carbonara that pulls a tourist to Rome's roadsides, the wine that takes another to a Paris pavement café, and the seafood that makes you stalk Savannah's River Street, none of these flavors would hit the tongue in quite the same way without the unique backdrop of a historic city.

Images: Simon HW, Bikey DXBach, and Jeroen Tiggelman
Salvaging. Repurposing. Reclaiming. Recycling. There is a handful of terms to describe the action of relocating discarded stone curbs and paving blocks from a city street to the residential landscape. What is remarkable about installing antique road materials, though, is that these unwanted chunks of rock have the ability to bring their storied character with them into their new home.

Images: Biz Reed
In the garden, reclaimed granite has an array of applications that is limited only by human creativity. Granite curbs become benches and steps, cobblestones become durable, patterned paths and garden edging. In all cases, the stones' worn faces -- infinitesimally sculpted with each pass of a million wagon wheels, iron horseshoes, and daily footsteps -- can offer compelling, visible clues to the materials' centuries of earnest use.
Images: Lauren Jolly Roberts, Matthew Cunningham, and Jason Ross
Don't get me wrong: there is certainly a place in the landscape for concrete and even asphalt. Where curbs and cobbles are rough and uneven, aggregate-based paving surfaces can be smooth and uniform. Sometimes a tame, even surface is preferable in the landscape, and other times it is an absolute necessity. However, in these materials' consistency lies their visual blandness. Conventional asphalt paths and concrete walls and walks leave little to the imagination, and unlike with salvaged stone, age tends to erode the beauty of these sleek surfaces.
Stone curbs and cobbles, having endured tirelessly under winter's harsh chisel and civilization's heavy, repeated traffic, deals with age quite differently. The stains, wear, and tear that come from centuries of use only improve upon stone's rich visual character, and for every innumerable footstep that each stone has received in the past, there is the unwavering promise to endure just as many in the future.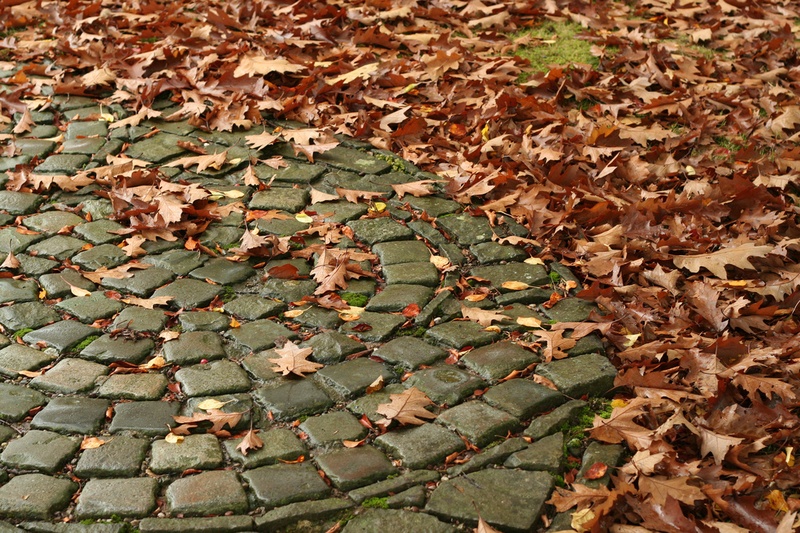 Image: Chris Salt