A garden can mean so many different things to different people. For some, it is just a functional, "no frills" space to grow edibles to feed the family. For others it is a showplace to feature a spectacular landscape. It's a place for dogs to romp and children to roam and explore. Often it is an entertainment space or a place of relaxation, away from the stresses of the world. And in times of trouble, a garden can be a sanctuary, an oasis where you can lick your wounds in private or recover from a terrible loss.

Gardens can be a healing place, alive with hope and the promise of spring. They can also be about "community" – bringing people together for a shared purpose. Recently, I joined volunteers with the Peachtree City Garden Club and the Peachtree City Community Garden to create a butterfly garden in memory of a lovely and truly amazing young woman, Julia Grace Tartar, who died last August in a tragic accident.

Julia was a dedicated Christian who made a profound impact on everyone she met. Her smile could light up the sky! Julia's mom, Tricia, is a good friend of mine and is the founder and director of the Peachtree City Farmers Market and the Community Garden. Those of us who love Tricia and are devastated by the excruciating loss of her daughter, wanted to do something to honor Julia's exceptional life. We felt creating a butterfly garden at the community garden in her memory would be a small way to keep her spirit alive. And, as a community, it is our way to grieve and share in the healing process.
Tricia Stearns with daughter, Julia Grace Tartar (Image courstesy of Tricia Stearns)

With the help of local retired landscape designer, David Cree, who volunteered his services to design Julia's Butterfly Garden, we chose a palette of perennials to either host caterpillars (fennel and milkweed) or attract butterflies. Even though it is late in the season, we took a road trip to Goodness Grows Nursery in Lexington, Georgia, which specializes in herbaceous perennials and still had a great selection. Plants chosen include Joe Pye weed, ironweed, dwarf butterfly bush, aster, coreopsis, cosmos, Russian sage, swamp sunflower, coneflower, Mexican and hybrid sage and summer phlox.

 (Left): David Cree choosing plants at Goodness Grows and (Right): Volunteers get ready to plant the garden. (Images by Bonnie Helander)


Since most of these perennials will die back soon, we added structure plants to give winter interest.  We planted two gorgeous camellia sasanqua 'Yuletide' to provide color, carpet and Knockout roses that will bloom to first frost, Golden Hinoki cypress, Austrian black pine, paperbush and a lovely Japanese maple ('Emperor I).  Even when they shed their leaves, the paperbush and maple add a pleasing shape and structure.

Volunteers work hard to plant the three garden beds.
The perennials are looking poorly right now and preparing for their winter sleep. But we know there will be a resurrection come spring – and this gives us hope and the knowledge that we will one day see Julia again. And we can't wait to see those butterflies next year!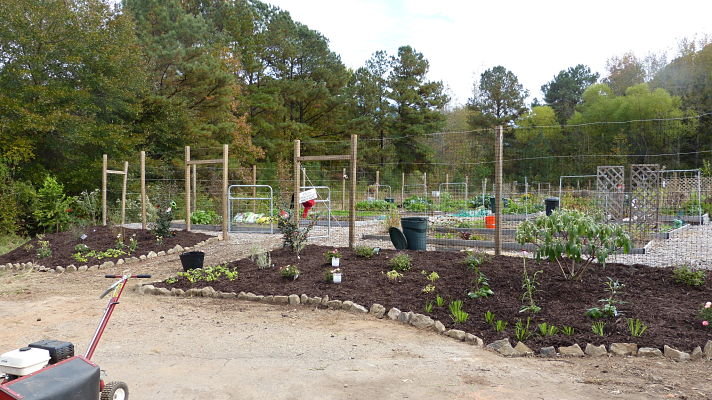 Left side of new butterfly garden (Image by Bonnie Helander)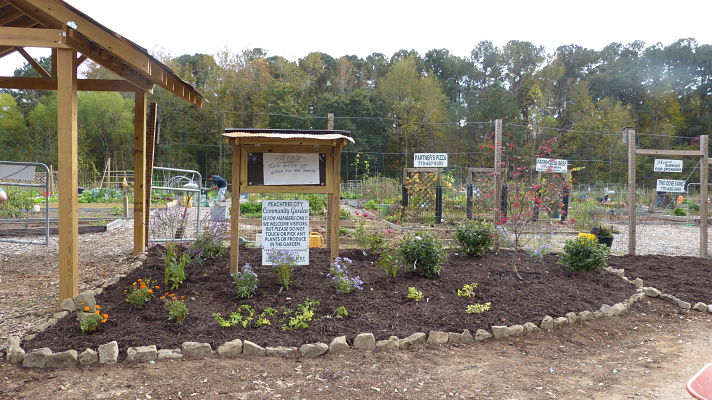 Right side of new butterfly garden. (Image by Bonnie Helander)
Add a butterfly bed to your own outside space and your garden will come alive with sound, movement and color. Not only will you attract butterflies, but birds and bees and other beneficial insects.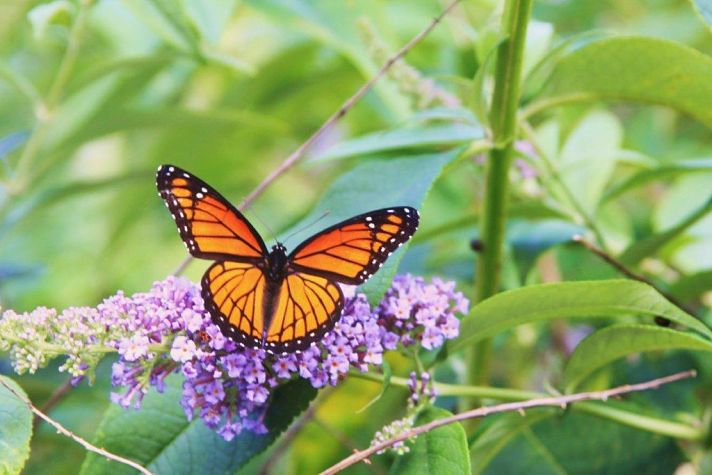 (Image by Cubie Steele)