Image: Prospect Contractors
From the road, there's usually not much to love about them. Gabions, wire baskets filled with rocks, are most typically used to stabilize transportation and engineering projects or to fortify military installations. If you have noticed this method of construction before, you likely could tell that loose pieces of stone had been packed into a wire-mesh box; understandably, the word "gabion" originates from the Italian word for "cage."
In most applications, gabions seem drab and utilitarian, and they may seem no more fit for your garden than a highway Jersey barrier. However, in some places, designers have resuscitated this construction technique, imagining new forms, materials, and details that are sometimes quite inspiring.

Images: Only Lines, Cherie Xiao, & David Harvey
Earlier this year, I was fortunate enough to see some truly enterprising gabion applications in the two Australian cities of Sydney and Canberra. Rather than being relegated to the roadside, gabion installations are nearly as commonplace in Australia's gardens, parks, and plazas as they are along its highways. This is largely justified, though, as these garden gabions tend to be designed, detailed, and dressed for the occasion.

Images: Sam Valentine
Considering they are assembled from some of the hardest, coldest materials available, gabion walls, steps, and slopes can take on a surprising amount of softness and life. The malleability of wire allows for curves and smooth shapes just as easily as it creates crisp, orthogonal cubes. Because of their unique abilities to brake water velocity, allow free draining, but still hold together structurally, gabions are regularly used to restore river banks and stabilize eroding hillsides. Choosing gabions for streams and slopes often leads to a beautiful side effect: over a period of years, the crevices and voids fill with soil and sediment and -- ultimately -- bountiful vegetation.

Images: Denver Aquino & Lauren Jolly Roberts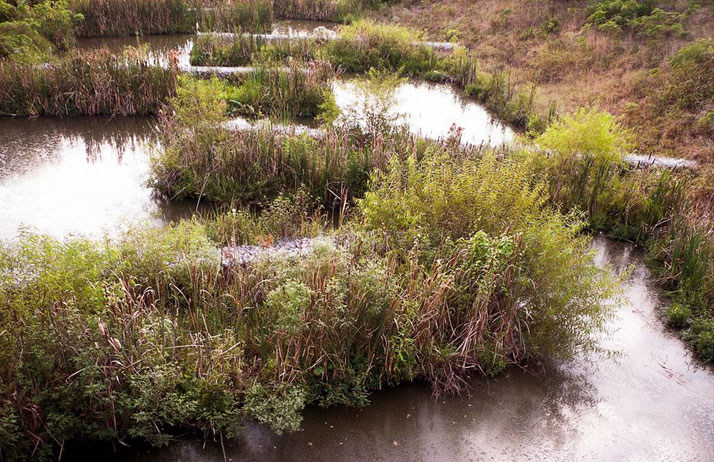 Image: Ken McCown