To early philosophers, the world was comprised of just four elements: earth, water, air, and fire. Today, a chemist will more likely give you the number "118" (the discovery of four new elements was announced in December 2015). Landscape designers, however, can often perform the miracle of boiling the world down to merely three elements: hardscape, softscape, and structure.

Images: Dean Hochman, Tanaka Juuyoh, and Susanne Nilsson
Though lacking in scientific heft, this tripartite view of landscape is relatively convenient. "Structures" are the architectural inventions, generally vertical and walled, that can be located in the garden or form its outside boundaries. "Hardscape" elements are the seatwalls, flagstones pavers, plaza bricks, poured concrete walks, and the like that remain fixed under foot. "Softscape" components are a mixed bag of almost everything else; I have seen this category to include lawns and trees, water features, and everything in between.
In landscape design, things can get exciting where these three elements overlap and hybridize. Examples that come readily to mind include a flagstone path with soft moss conquering its cold stone joints; water cascading down a vertical rock face; and -- as is the focus of this post - walls made of modular bricks that can host planting.

Images: Micaela Nardella and Oana Tudose
It was an online video that tipped me off to this somewhat trending topic. The two architecture students invented "Brick Biotope," a handmade "bird-friendly brick," to integrate with the standard dimensions of a conventional brick wall. The bricks are patterned to provide room for small plants and growing media, as well as small crevices that birds can call home.

Images: Patio Town, Jensen Architects, FabArtDIY, and Rael San Fratello
Brick Biotope is prototypical and hand-crafted. Consequently, unless you are quite crafty yourself, it will not be seen in your garden any time soon. The experiment does, however, remind me that there are plenty of readymade products that allow you to bring vegetation to the walls of your home and garden. Aesthetic detailing of these "plantable" bricks and blocks varies greatly, as does price. On the low end of both spectrums, planting pockets can be achieved in a retaining wall by selecting certain concrete blocks. (It is arguable, though, whether these are much easier to love than roadside gabions, which also allow for some vegetation to take root.)

Images: Rael San Fratello
Use 3D-printing technology, one architecture firm has pioneered much more elegant bricks that also serve the purposes of nesting birds and holding vegetation. Each brick is a piece of sculpture in its own right, and like the Brick Biotope, these units are coordinated to interweave into a conventional brick wall.
One of the Seven Wonders of the Ancient World, The Hanging Gardens of Babylon, was built, to transform architecture into "a lush, green mountain rising up out of the desert". While we may now be in an age of jaw-dropping modern technology, the same fascination remains strong: where softscape meets architecture, inspiration abounds.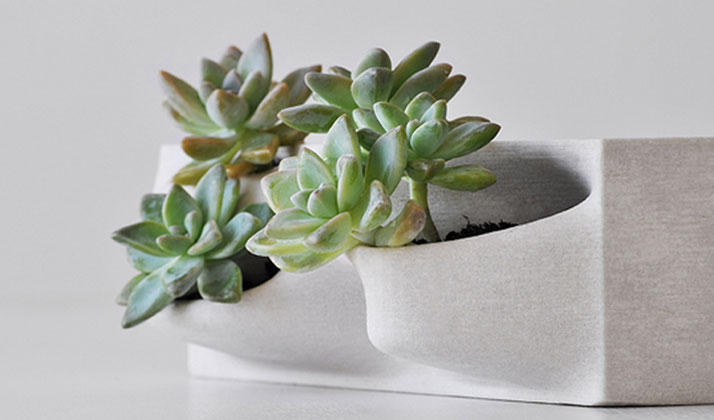 Image: Emerging Objects