Image: Sam Valentine
In my recent travels, I had the opportunity to tour El Jardín Japones, a Japanese-themed garden park in the city of Buenos Aires, Argentina. It was remarkable to observe one foreign country's distinct style transplanted into the center of another far off land. Coming from the United States, I certainly did not expect to find Asian gardening in South America.
However, as I strolled the Jardín's dozen acres, what stood out far more than the cultural juxtaposition was a special visual effect: the powerful and judicious use of the color red.

Images: Richard Lemmer, Nancy Waldman, and Miranda Jan
After my visit, just a bit of research suggests that red lacquer is actually more of a Chinese signature than a Japanese one, but that does nothing to undermine the striking visual experience I observed. The bold choice to cover the Jardín's bridges and gateways with bright-red paint results in dramatic vistas across the lawns, ponds, and rock gardens. The painted structures "pop" against a backdrop of shrubs, trees, and city skyline.
Across cultures, the color red has unique social and psychological associations. Red sports cars, red lipstick, red sunsets, and red stop signs undeniably demand human attention. Lurking behind these cultural meanings there is an array of scientific explanations for red's prominence.

Images: Turenscape Landscape Architecture
The photos posted above show examples of the color red used in both historic and contemporary landscapes far from the single park I visited in Argentina. In the landscape, red stands out even more dramatically than it does on a city street or a paper page. An autumnal maple leaf, a glowing holly drupe, or a lacquered "torii" each reads in strong contrast to the shadowy greens and browns of a garden. The result is even more painterly when that landscape is covered in a fresh blanket of white snow.
As in all types of composition, the design of landscapes calls for the artist to use his or her tools judiciously. Red is only so effectual in El Jardín Japones because it is applied sparingly, precisely, and strategically.

Images: El Bitio and Duncan Harris
While an unbroken red field of blooming poppies is certainly a sight to see, the view lacks the dynamic force of a few lone poppy blooms standing starkly against a green field.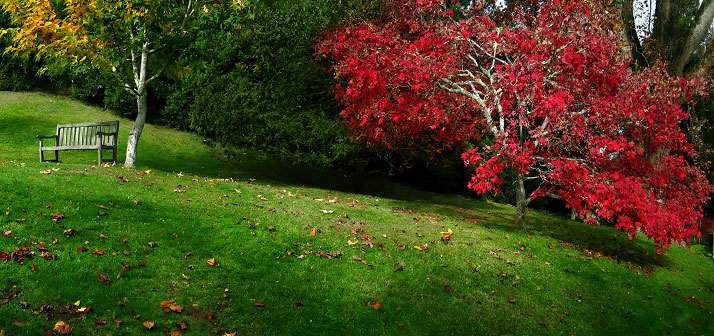 Image: Peter Kurdulija