Even before leaving the airport, a visitor gets a sense that something is up in Paris. A portion of it -- surely -- is that you have just arrived in a famed city among throngs of people who have come see if "Grand Paris" lives up to its reputation.

Image: Sam Jacob
Paris is affectionately called the "City of Light" (Ville de Lumière), and the nickname relates, in part, the metropolis' public-realm lighting, beginning in the mid-19th century and becoming only more dramatic as modern, electric lighting replaced gas lamps. Without effort, people around the world can call to mind the glowing Louvre Pyramid and a sparkling Eiffel Tower that projects lighthouse beams across the night sky. During my visit in June, I even encountered luster in surprising places, like a polished stainless-steel bench in broad daylight.

Images: Cyril Couture and Sam Jacob
So sure, light is a big part of what makes it Paris, but something else comes into focus as visitors walk its streets, its gardens, its parks, and its cemeteries: shadow also gives the city its strong character.

Images: Sam Valentine, Susan Sermoneta, and Adam Saul
It is the dark shroud beneath the city allées that makes penetrating dapples of sunlight something noteworthy. The long silhouettes that stretch across cobbles and stonedust turn simple pedestrians into photogenic compositions.

Images: Sam Jacob and Becky Lai
It is no secret that shadows on a building face are what grants architectural relief and contrast; without the disagreements between light and shadow, ornamentation cannot be read. During morning and late-afternoon, though, I was struck by the dark sides of Parisian buildings, appearing strikingly against a bright sky.

Images: Praer and Sam Valentine
In the visitor's plaza beneath the Eiffel Tower, there is an entire atmosphere of shadow. At many times of the day, you can find yourself walking across a dark lattice, projected down from the iron framing above. Looking skyward heightens a visitor's awareness of the intricate ironwork, standing as an inky lace against the blue backdrop.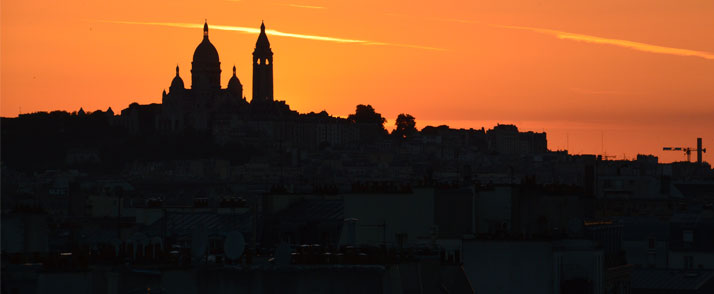 Image: Sam Jacob