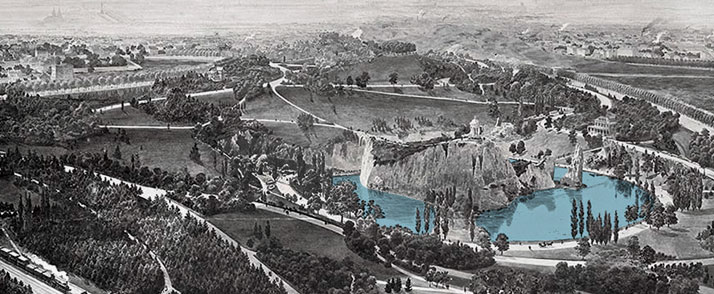 Image: State Library of Victoria (colorized and cropped)
Imitation rock and faux boulders are not usually something to write home about. From seeing Rock City, putting around miniature-golf courses, and floating through waterparks, I know that manmade rockwork can be adequate at best and abhorrently tacky at worst. Knowing in advance that the namesake "buttes" would be in large part artificial and having only dubious precedents in mind, I was not sure what to expect when I visited Parc des Buttes-Chaumont.

Images: Sam Jacob, Michael Dupuy, and Sam Valentine
Parc des Buttes-Chaumont is a municipal park in northeastern Paris, France, which had celebrated its one-hundred-and-fiftieth birthday just months before I visited last June. Built on the rugged, abused site of a former gypsum quarry (among other things), the 61-acre park centers around a craggy promontory that thrusts from the center of a wooded lake. Elsewhere in the park, residents enjoy expansive lawns, hilltop vistas, a Gustave Eiffel-designed pedestrian bridge, and a partially obscured grotto. Tying all of this together are miles of elegantly swooping avenues, paths, and trails.

Images: Eleanna Kounoupa, Co Pa, and Magnus Franklin
Back in college, my professor had made clear that the craggy cliffs that define the park were largely concrete, but it required an actual visit to comprehend the extent of the faux-natural concrete work. Up close it becomes clear -- at least to a discerning eye -- that the "rock" walls and the stalactited grotto are surfaced with concrete.

Images: Coyau, Erica Allen, Becky Uline, and Laura Kloosterman
Walking other areas of the park, though, I found even "wood" steps, posts, and railings to be falsified. Further research after I returned home helped me to realize that "faux bois" is a recognized artisanal style and to appreciate its history in the context of Paris' historic 1867 World's Fair.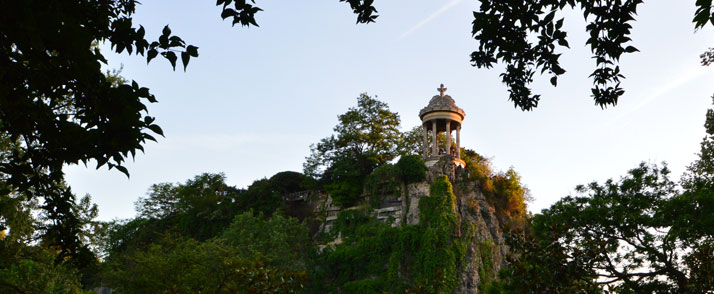 Images: Sam Jacob
The climax of a visit to Buttes-Chaumont is ascending to the Temple de la Sybille and standing still for a minute. If you have seen a postcard of this park, the Temple is undoubtedly in the view. Designed and sited as an homage to the Temple of Vesta in Tivoli, Italy, this circular colonnade seems to almost overhang the precipice of the butte. From the elevated temple, viewers can consume a full panorama of the park and the city beyond. I was lucky enough to visit at sunset.
The park landscape plays host to active and passive users, and during my visit I sensed that it is a beloved part of the neighborhood. Venturing through the park gives a visitor moments of drama and surprise, but on the whole, the landscape is far more stately than it is flashy. Among designers, there is a quest for authenticity that conjoins with an often rabid rejection of counterfeit materials. Landscape architects hold a justified stigma against false stone, but -- for lack of a better word -- it was folly of me to carry that prejudice into Parc des Buttes-Chaumont.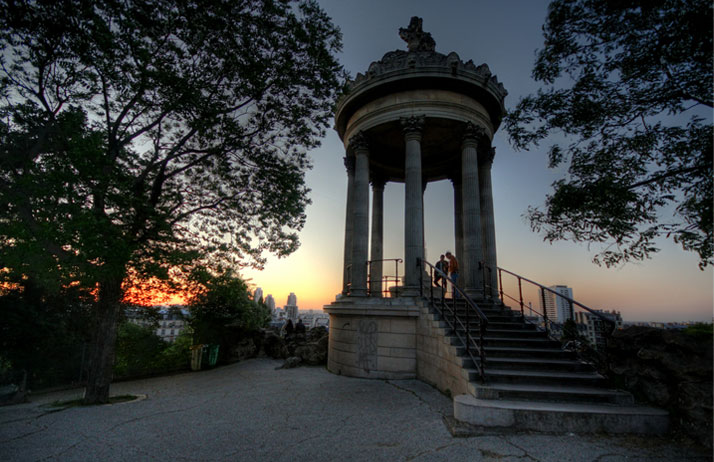 Image: Philip Menke