Even a speck of common sense tells us that the shortest way to get from one point to another always takes the path of a straight line. Following a meandering road that zigs left and zags right is surely less efficient than taking a direct route. We hold these truths to be self-evident.

Images: Goat Mountain and S. Cholewiak
When you encounter a serpentine brick garden wall – also called a "crinkle-crankle" or "ribbon" wall – it is natural to extend this same logic and deduce that the winding curves are as equally inefficient as a meandering path. You may also observe that, despite this apparent structural inefficiency, a curving wall has several aesthetic advantages to a straight brick wall. The wave-like form provides visual interest, lends a soft edge to an outdoor room, and creates a rhythm of pockets that can be used for ornamental planting and sculpture.
However, when you carefully study them, you might realize that these walls are deceptive structures. Contrary to its inefficient appearance, a serpentine wall actually requires fewer bricks than a typical garden wall to withstand toppling. Due to the indirect footprint they follow, serpentine walls are in fact longer, but because they can be built to a thickness of only a single brick they are ultimately more economical. The looping, playful footprint actually serves to reinforce the structure and keep it from tipping.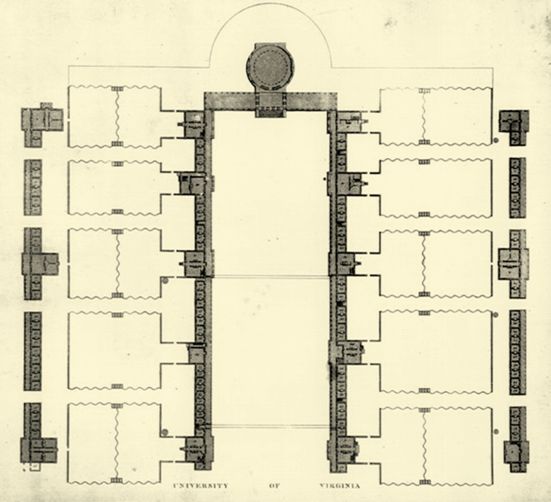 Engraving by Peter Maverick (1825) from Thomas Jefferson's plan
Years after he authored the Declaration of Independence, and served as our country's first Secretary of State, second Vice-President, and third President, Thomas Jefferson incorporated serpentine walls as a dominant feature of his design for the University of Virginia. His historic nineteenth-century plan for the campus indicates rows of buildings fronting onto a rectangular quad, and each of the building's rear yards is enclosed with garden walls. If you look closely at the plan you can discern the squiggling lines that represent these serpentine walls.
Images: S. Cholewiak and UGArdener
Though the aesthetic of this type of wall is not appropriate in all landscapes, I find that the undulating edge condition created by a serpentine wall can complement some garden spaces much more nicely than the straight lines of a typical wall. A few states south of Jefferson's garden walls, a beautiful example of serpentine walls can be seen at the University of Georgia's Founders Garden, which is named for the twelve founders of the Ladies' Garden Club of Athens, the first garden club in the United States. Only a few steps from the classrooms and studios of the country's largest landscape architecture program, two vine-covered garden walls snake their way through lush planting beds and lend soft edges to the formal lawn space.
Meandering roads are never the shortest, but they often provide a more pleasant, scenic experience. In the case of the serpentine wall, gardeners can discover a tool that is historic, economical, and offers great aesthetic potential.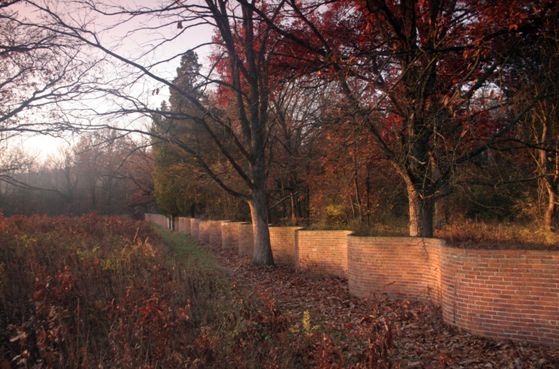 Image: Goat Mountain
Author: Sam Valentine, BLA, LEED AP