Anyone who has gathered around a fireside storyteller, and observed him positioning a flashlight beneath his chin and pointing the beam over his face, has experienced the dramatic affect that can be created by uplighting. With a simple beam of light, even a friendly, smiling face can be transformed into a dramatic – and perhaps even haunting – image. In the landscape, the technique of uplighting can turn a dark, dull volume into a composition that is high in relief, contrast, and dramatic effect.

Images: Arne Hjorth Johansen, Hazel Owen, and Matthew Fish
On building walls, the technique is an effective way to highlight significant parts of a facade, and in my experience, the strategy unfailingly results in a structure that – when night falls – looks clean, well-maintained, and attractive. The consistent effect of shining a beam of light nearly parallel with an architectural face is to emphasize any inherent structural relief. Between courses of brick or stone, mortar gaps only half an inch deep can take on a much greater visual depth by remaining in complete shadow. Similarly, wood-sided structures and slatted shutters can become banded canvases of highlights and shadows.

Images: R. K. Node, J.P. Stanley, and Nico Hogg
Directing uplights at trees and tall shrubs can create equally dynamic results. Artificial lighting that is judiciously positioned and aimed can exhibit the smooth trunks of American beech trees, magnolia species, and American hornbeams, and the inherent roughness of pecan, oak, and trident maple barks can be exaggerated. Additionally, uplighting can be employed to brighten a tree's leaves and canopy, creating hundreds of green, glowing lights from a plant's foliage. Perhaps the nicest effect of uplighting plants is the creation of an illuminated silhouette against the black background of night.

Images: Alicia Woodward, Chris Malory, K. Ramesey, and Gregory Garnich
Churches sometimes use uplights to celebrate their steeples, and businesses regularly use uplighting to call attention to their signs and to attract customers. Whether it is coming from the sun's rays or an overhead fixture, most lighting that we see is a form of downlighting, and as a result, uplit objects are unusual and tend to attract our eyes.
In your residential landscape, consider using uplighting strategies to accent and bring attention to your favorite structures or garden objects. Can you think of any carvings, plants, or sculptural artwork that might benefit from the dramatic contrast of uplighting?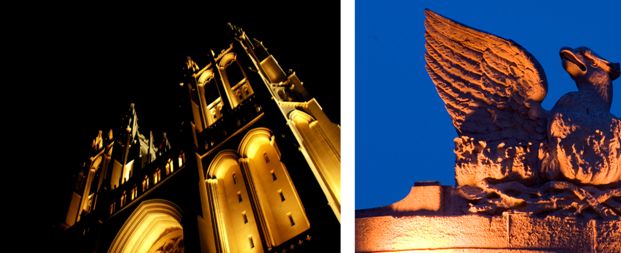 Images: Michael Whitney and Dominic Alves
Author: Sam Valentine, BLA, LEED AP