There are few experiences quite as refreshing as entering a cool swimming pool on a hot summer's day. Splashing into an expansive volume of clear water, every inch of your body is immediately enveloped in a liquid sanctuary from the heat. In this environment, the sweltering heat is left behind, refracted sunlight dances across your skin, and to some extent, your body feels as if it is no longer bound by the Earth's gravitational pull.

Image: Stefan Kellner
The artificial systems that support most American swimming pools, though, are not without their downsides. A large amount of chemical and mechanical intervention goes into the creation and sustainment of a residential or community pool in order to prevent swimmers from contracting ear infections and other more serious ailments. Furthermore, the same chemical disinfectants that make a pool inhospitable to bacteria, algae, and insect larvae can also leave swimmers with bloodshot eyes, itchy skin, and bleached bathing suits.
There is a more natural way. If you think back to idyllic visits to pristine mountain lakes, clear ponds, or perhaps a forest-shrouded swimming hole, you will likely recall being immersed in clean, pure water that neither made you sick nor stressed your eyes and skin.


 Images: Laura Padgett and Bio Nova Natural Pools
Though they have yet to become standard in the United States, European nations such as Germany and England have been successfully pioneering something called "natural swimming pools" or "swimming ponds".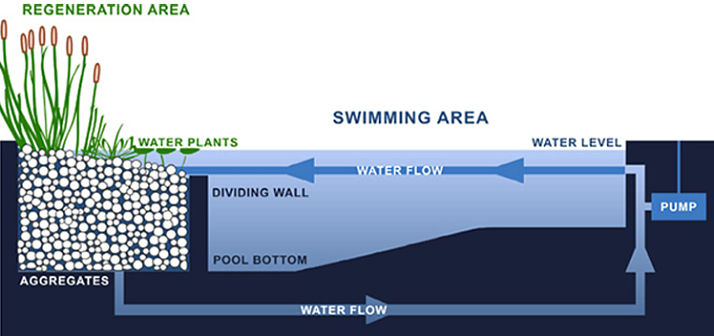 Image: Gardenart Swimming Ponds
The way these unconventional pools work is actually quite simple. Instead of relying on chemical additives, natural swimming pools employ nature's processes to remain both sanitary and clear. Aided by some plumbing and an electric pump, the pool's water is cycled continuously through a "regeneration area." In this zone, which is usually separated from the swimming area, water is pulled through layers of crushed stone, sand, and aquatic plants that serve as a natural filter. Though it might sound a bit dirty to swim alongside lily pads, sedges, and even frogs, it is these very organisms that make up the natural, biological filtration system that keeps a natural swimming pool clean.

Images: Clear Water Revival

Aesthetically, natural swimming pools can be built in a wide palette of styles. A natural pool can take on the rectilinear form and white and blue hues of a traditional American swimming pool, or it can be built to resemble a wild pond. Existing, chlorinated pools can even be retrofitted to function as natural swimming pools, and as long as the water quality is periodically monitored, this new, intuitive design will ultimately prove itself to be healthier for both the swimmers and the earth.

Images: Clear Water Revival and Woodhouse Natural Pools
Author: Sam Valentine, BLA, LEED AP