Each morning sees my task begun,
Each evening finds my duty done:
The shadows on my dial show
Only the joyous hours that go
Along the pathway of the sun.
Only the happy hours I write,
Between the daybreak and the night:
My records all are golden rhyme;
I am the troubadour of time,
And all my songs are of delight.
Almost exactly a century ago, in June of 1912, the above poem by Frank Dempster Sherman was published by Scribner's Magazine under the simple title "A Sun-Dial". At the time it was written, the world had already developed a wide selection of time-telling mechanisms, including clocks, pocket watches, and even wristwatches, yet Sherman's poem paints the archaic sundial in a light that is romantic and perhaps even a bit mystical.

Images: Nuala Bugeye, Mount Vernon Ladies Association, and Bart Maguire

Invented at least five thousand years ago, a sundial is any manmade instrument that uses the sun's position in the sky to mark the passage of time. Gnomons, the raised features that cast sundials' shadows, can range in height from inch-high fins to soaring stone obelisks, and the dials themselves can be as small as the palm of your hand or larger than a city block.
Timepieces were already technologically advanced by Sherman's day, and mankind has continued to progress much further. On our walls and wrists today, we have digital and mechanical timepieces that are silent, self-adjusting, and of atomic precision. Time follows us throughout our workday, and if the proudly displayed clocks on city halls, courthouses, transit stations, and other public structures are not enough to keep us punctual, we can always refer to the digital displays on our car dashboards, computer monitors, and cell phone screens.
But how does one keep track of time in the garden? An online search will quickly turn up a long menu of modern timepieces that can withstand the elements while diligently reporting the seconds that tick by. These devices can endure rain, frost, and ultraviolet light, and many of them are even solar powered. Before adding such an item to your shopping cart, though, you may want to consider a sundial.

Images: Facundo A. Fernández, Mike Freedman, and Simmone C.

Sundials have become classic objects in American gardens, and I doubt that this tradition stems only from their quaint, antiquated character. For many, a garden landscape is exactly the kind of place in which one can find so much comfort, enjoyment, and peace as to lose track of time, and for these types, a sundial is nothing more than a subtle reminder that hours are in fact moving by. While modern devices can tell time to the second and millisecond, there is a simple beauty in the fact that most sundials only mark the hours.
It was actually a historic sundial that alerted me to Sherman's obscure, century-old poem. For their clients, the Olmsted firm (the landscape architecture office that was founded by Frederick Law Olmsted and his sons) created an undetermined amount of custom-cast architectural details, wall medallions, sculptures, and garden objects. Among the few items that remained in the firm's possession, which are now in an archival collection managed by the National Park Service, I came across one item that I knew could be nothing other than the base of a sundial. Inscribed on its face, fittingly, was an excerpt that I later found to be drawn from Sherman's "A Sun-Dial" poem.

Image: National Park Service, Frederick Law Olmsted NHS and Sam Valentine

There is perhaps no better garden timekeeper than a sundial. It requires no winding, electrical supply, or batteries; in the purest sense of the word it is a solar-powered device. You can choose a brand-new sundial or one that has already seen thousands of days pass. To both children and adults, sundials offer educational reminders of the natural world in which your garden sits. To add such a timepiece to your garden is to bring a sense of time into your landscape without any meticulous ticking, and a sundial will allow you to enjoy the pleasant hours as they gracefully roll by.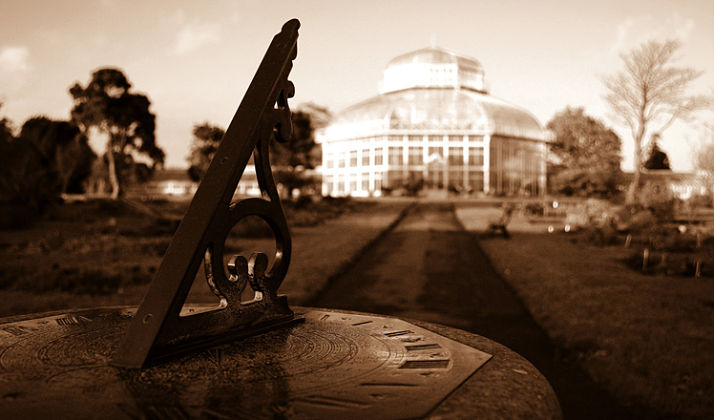 Image: Kenneth Barrett
Author: Sam Valentine, BLA, LEED AP