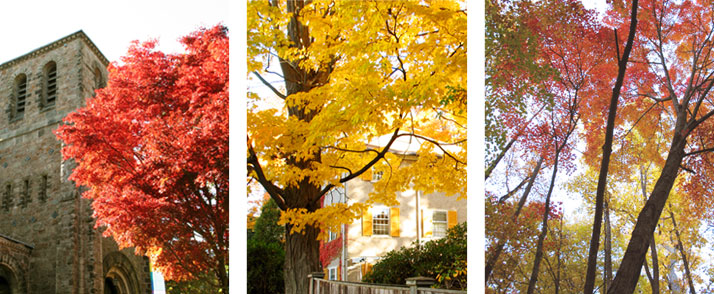 Images: Sam Valentine
Gold. Red. Yellow. Burgundy. Fire-orange. Violet.
You could easily imagine this variety of colors being dabbed from a painter's palette and onto his or her canvas, but these vibrant, expressive colors are also offered up by nature. Every year, as winter approaches, the leaves of deciduous plants morph through their unique spectrums. Parks, woodlands, and gardens erupt into a flamboyant exhibition of color.
Images extracted from "Leaf & Death" by Jeff Scher
Earlier this week, I stumbled upon "Leaf & Death," a short stop-motion film by New York Times Op-Ed contributor Jeff Scher. Set to a jazzy 1929 orchestra tune, Scher's animated leaves reminded me of two things. First off, the video cemented my growing awareness that autumn is firmly upon us. Secondly, it reminded me that the generous array of colors presented by trees, shrubs, and vines this time of year is nothing short of a work of art.

Images: Martin LaBar, Sam Valentine, and Liz West
Years ago, I had a conversation with one of my college friends, Maria, a young Columbian woman who was studying abroad in the United States, and the exchange still sticks with me. Walking through the University of Georgia campus on a crisp, chilly night in late fall, I looked over to see my friend's teeth chattering. Facetiously, I asked Maria how she liked being this far north of the equator.
With the cold wind tugging at us both, I would have understood if her response was something to the effect of: "I'm not used to this cold weather!" Instead, Maria stated – quite assertively – "I like living where there are seasons. It's beautiful."
In North America, fall colors are something of a red flag that short, cold days are quickly approaching. During those bleak winter months, it is both common and understandable for Americans to fantasize about living in a year-round tropical paradise like Columbia. But Maria illuminated to me that life in such a climate offers significantly less in the way of seasonal variety. And variety, after all, is the spice of life.
Author: Sam Valentine, BLA, LEED AP