Punxsutawney Phil sure misled us this year! Instead of an early spring, we are still facing chilly days and overnight frost warnings. March has been much more a lion than a lamb. But there is one sturdy little plant that laughs in the face of adversity and brings joy to the hearts of gardeners each winter – the lovely Lenten rose (Helleborus x hybridus) Named the 2005 "Perennial Plant of the Year," hellebores have evergreen glossy green foliage and charming nodding, cupped blooms that begin to open in January in my Zone 8a south metro Atlanta garden and perform well into May. That first hellebore bloom is my promise that spring is just over the horizon.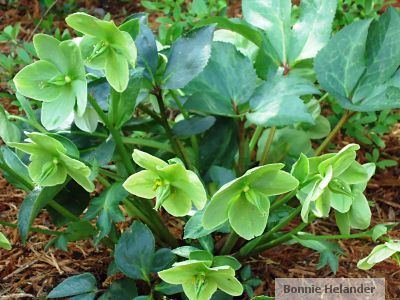 Plant them under deciduous trees and the winter sun will encourage flower growth. As trees leaf out and temperatures warm, hellebores will thrive in the resulting shade and won't even mind the trees snatching most of the moisture. Drought-tolerant once established,deer-resistant and pest-free, these little charmers will look their best if you cut back winter-worn foliage as the flowers begin to appear. New large lobed leaves will grow quickly and because of its extensive root system will spread into a great ground cover.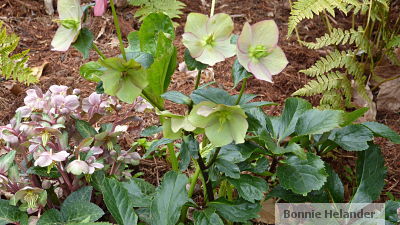 Large evergreen leaves of hellebores make an attractive ground cover.

Hellebore blooms sport a kaleidoscope of colors – creamy white, pale green, pink, burgundy and purple or a combination of all these colors! And colors deepen as the flowers age. Most of the flowers bow toward the ground but newer hybrids are treasured for their more upright, outward facing blossoms. Look for 'Ivory Prince' (Helleborus 'Walhelivor' Ivory Prince) with creamy blossoms that become infused with rose and chartreuse as they age.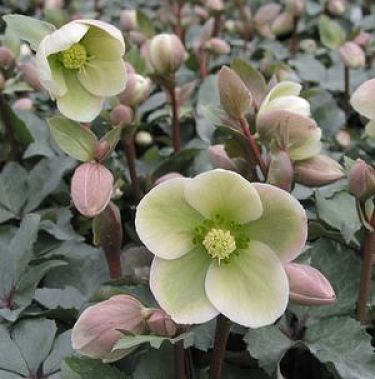 'Ivory Prince' from Skagit Gardens
The Helleborus Gold Collection®(HGC) is a selection of hybrid hellebores all propagated vegetatively to guarantee variety identity and uniformity and are considered by many as "the best of the best" with upright flowers and extended bloom time. Look for 'Pink Frost' (Helleborus x ballardiae Gold Collection® Pink Frost) which begins blooming in November; 'Merlin' (Helleborus x ballardiae Gold Collection® Merlin) and 'Cinamon Snow' (Helleborus x ballardiae Gold Collection® Cinnamon Snow).
Mass plant hellebores under trees or shrubs for a big impact. Companion plants include early spring ephemerals like Galanthus (Snowdrops), ferns, azaleas and other shade-loving plants. Add a good layer of mulch after planting to protect them from summer heat and help retain moisture. But, know that hellebores are fuss-free and can take some abuse. I made the mistake of planting some in an area that got late afternoon sun during the hottest summer months. They died back in the heat and I thought they were gone for good but this winter have popped up again and are blooming! I will transplant them to a shadier area soon.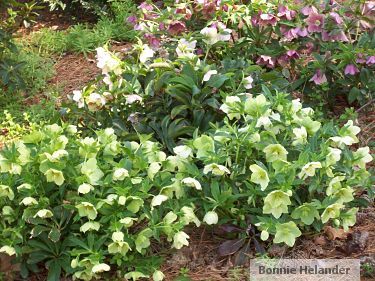 Mass plant hellebores for impact.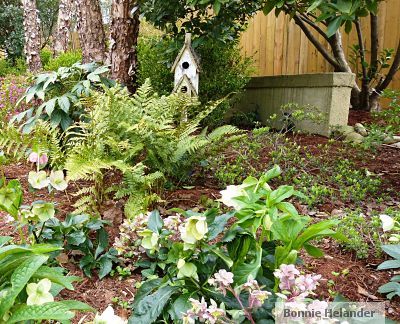 Hellebores look great in front of ferns and azaleas in the shade garden.

Add some of these fabulous winter-blooming hellebores now to enjoy the color show, and you might find them on sale! But you will most appreciate them next winter when you long for the promise of spring.                                                                                                                    
Author:  Bonnie Helander