Whenever gardeners get together, they often share opinions on what are their favorite plants. For some plant lovers it is difficult to choose a favorite. They will simply say, "I love whatever is in bloom at the time."  For me, "favorite" implies a plant that performs well without a lot of hassle!

I love plants that are not fussy and don't involve too much care. Don't we all! That is why I don't grow many roses – except Knock Out® roses which take little effort at all to maintain. I love plants that have few issues with insects or disease and that don't need prodigious watering in the summer. I fell out of love with hydrangeas because mine always seemed to wilt in the heat and look pitiful all summer. But I fell back in love with them when I moved them to a happier place - a raised bed with amended soil that has more tree cover. They look fabulous because I finally gave them the right conditions.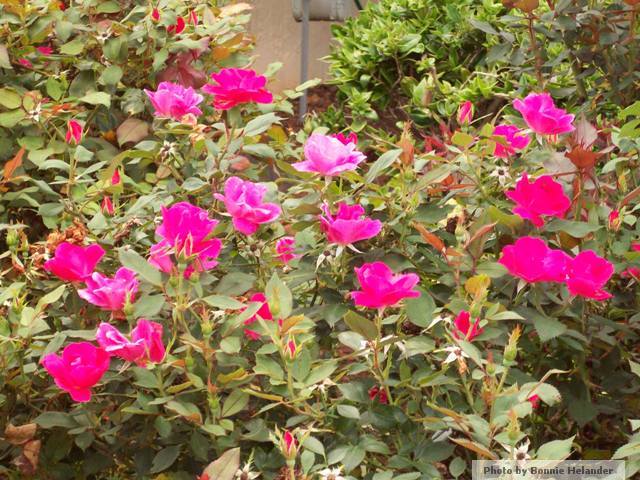 Pink Knock Out® Roses bloom all summer long! 
Walking around my garden recently this spring, I noticed several plants that give me much satisfaction and joy. If you are looking for some low-maintenance but beautiful plants to add to your southern garden, please take a look at some of my favorites.

Japanese Aralia (Fatsia japonica) – This lovely tropical evergreen shrub has impressive large palmate lobed leaves and a pretty white flower in early winter. It thrives in partial sun to shade and looks great behind lower-growing ferns and hellebores.  The shape and exotic look is a nice addition to the shade garden.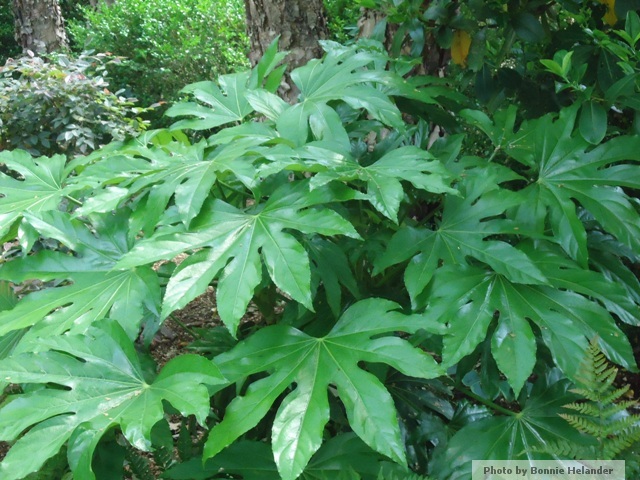 Japanese Aralia - lovely tropical flair


Autumn Fern (Dryopteris erythrosora) – This is an attractive evergreen fern that stands up straight during winter cold. In the spring the new foliage is a lovely copper color and then turns a deep green. It can spread in the shade to a 3 or 4 foot clump, adding impact. Autumn ferns prefer shade but are tough and can take a little sun and some drought conditions.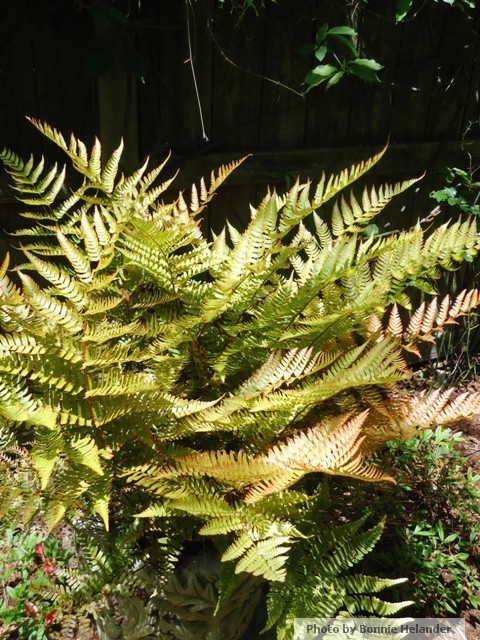 Autumn Fern - evergreen with coppery fronds in the spring


Oakleaf Hydrangea (Hydrangea quercifolia 'Snow Queen' ) – This is a "must-have" native shrub for part sun/shade. It offers not only beautiful, long-lasting white blooms in the late spring but red/burgundy foliage in the fall and peeling bark for winter interest. This may be my most favorite plant because it has so much seasonal interest and requires little care.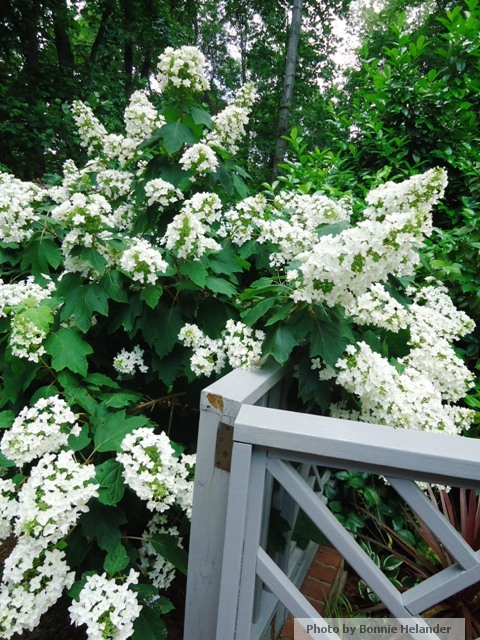 Oakleaf hydrangea - three-season interest and worry-free shrub


Crossvine (Bignonia capreolata) – Another of our native plants, this fast-growing semi-evergreen vine is not finicky and flourishes in full sun or part shade and in dry or moist soil. In the late spring it produces small trumpet-shaped flowers in orange-yellow that are a favorite of hummingbirds. I call it semi-evergreen because it can lose many of its leaves in a cold spell but you will be amazed at the fast and luscious growth in the spring. It's a great vine for a fence or wall.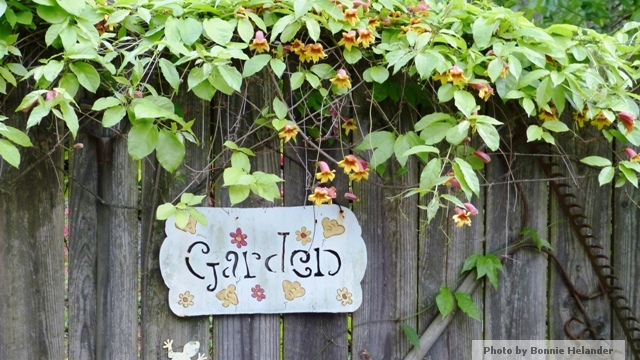 Crossvine - vibrant yellow and orange tubular flowers attract hummingbirds


Spiraea – Even though spiraea looks like dead sticks in the winter, it provides so much delicate spring and summer interest that I just love it! I have several varieties but particularly like 'Magic Carpet' (Spiraea japonica 'Magic Carpet' ) which is a dwarf plant that takes full sun. The foliage is two-toned with gold leaves accented by red tips. The flower is a vibrant pink. 'Ogon' (Spiraea thunbergii 'Ogon') takes full sun and is larger than 'Magic Carpet,' growing to about 4' tall.  In early spring you will see abundant tiny white flowers amid narrow yellow foliage that turns bronze in the fall.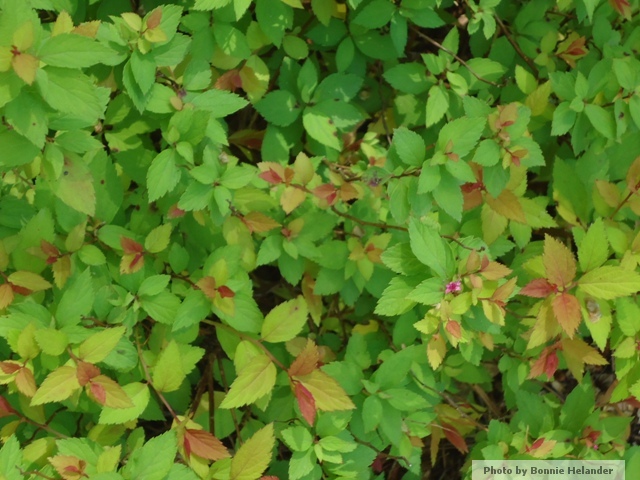 'Magic Carpet' spiraea - dwarf shrub with gold leaves and red tips


Japanese Maple (Acer palmatum) – I have three Japanese maples that were planted before I bought my home and they are focal points in my garden. I don't know the varieties but all begin the spring with vivid burgundy foliage that fades to green in the hot summer before bursting again into a deep red in the fall.  The shape of the trunks provides winter interest.  I recently planted a 'Coral Bark' that as the name suggests has a bright coral bark trunk for more interest all year.  If you don't have a Japanese maple in your garden, you must snatch one up at the next plant center sale!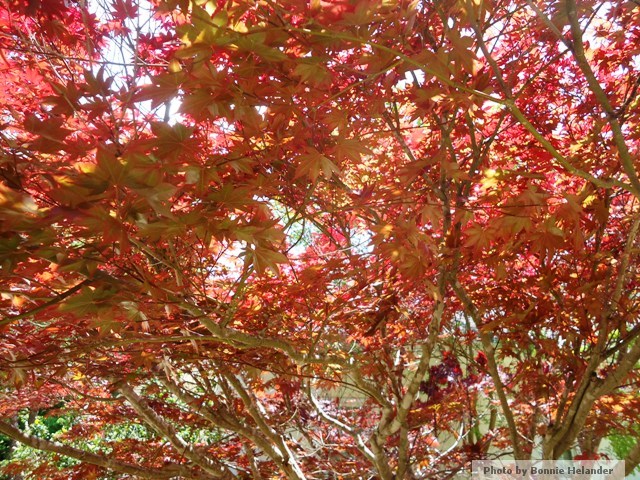 Japanese Maple - vibrant burgundy foliage welcomes spring 

Feel free to comment and share your own plant favorites!