When I chose my Peachtree City, Georgia home in 2004, I was really sold on the lovely Japanese Koi pond in the back garden. At the time I did not know anything about Japanese garden design. As I studied the topic, I realized how complex the principles are to create a "simple," serene Japanese garden which is often a stylized version of a perfect garden.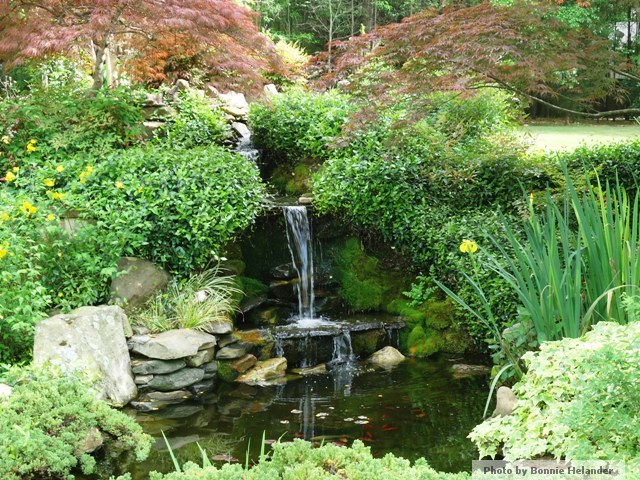 My garden includes this Koi pond as the major focal point. The plants are Japanese inspired, including Japanese maples, juniper, Japanese aralia and loropetalum.


Base on the Zen philosophy, symbolism and esthetics are important. When you enter a Japanese garden, you should experience a sense of tranquility and being part of the natural environment. You will find an asymmetrical design that combines elements of water, rocks, plants and focal points including stone lanterns and water basins, arched bridges, pagodas, tea houses, and arbors.

Over the years, I have enjoyed visiting public display gardens that feature a Japanese garden. In each of these venues, I've seen similar elements that help to create the "feel" of this style. Below are some tips from landscape designers to create your own Zen garden.

1.    Strive for simplicity – "achieving maximum effect with minimum means" - In a Japanese garden you will find the imaginative use of simple, natural materials to create a lovely and tranquil setting. Boulders provide the "bones" of the garden.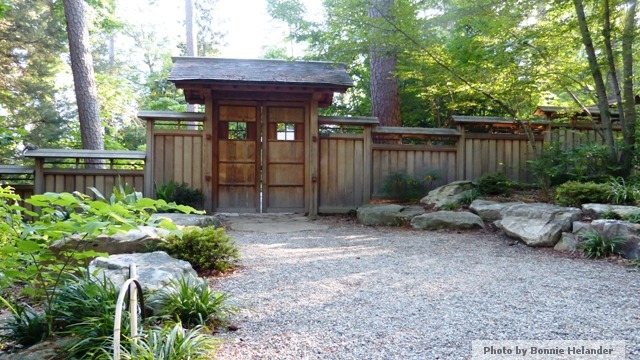 The entrance to this Japanese garden "room" is a simple gravel pathway with boulders giving structure as the border.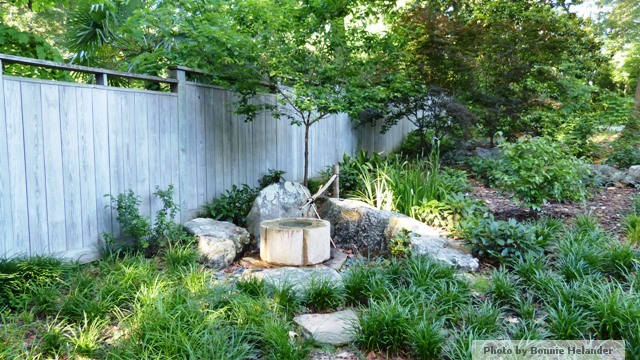 The use of boulders, stepping stones and greenery highlight this simple Japanese fountain.



2.    Be Subtle: Subtlety is achieved through the use of evergreens as the primary color. Conifers, pines, moss, bamboo, hardy banana and Japanese maples give structure and convey subtle changes in color and textures.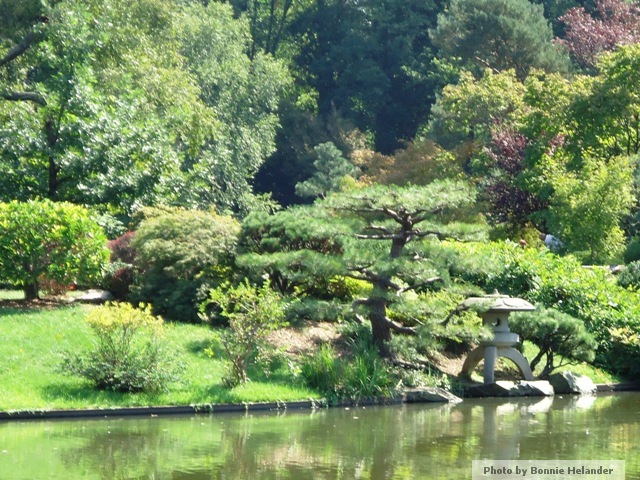 Notice all the tones of greens and the various textures that make this garden beautiful.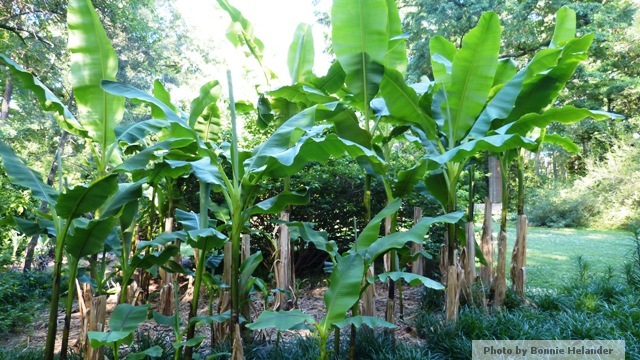 Hardy Japanese banana adds another shape and texture to the greenery.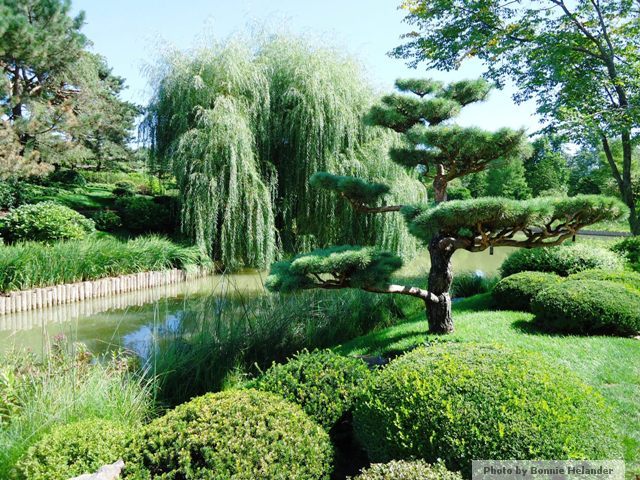 Stylized trees, trimmed shrubs and weeping trees add more interest.


3.    Create mystery – A key design element in a Japanese garden is to fashion scenes that cannot be viewed all at once. To see the whole vignette, you must continue to travel down a winding garden path further into the garden. Various focal points will draw you in including lanterns or stone pagodas. There is a sense of anticipation to explore the next turn.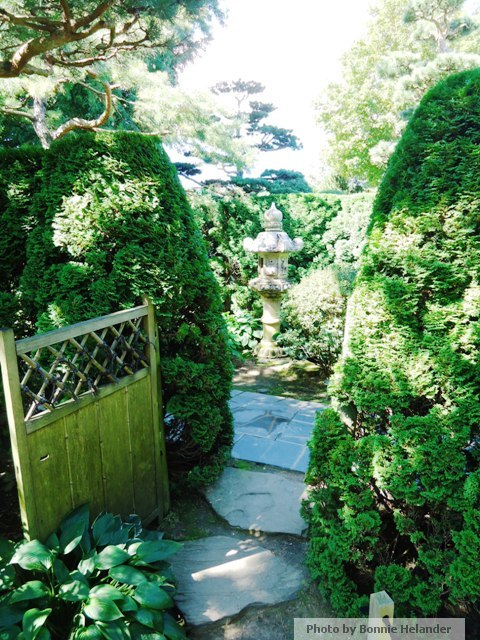 As you peek inside the gate to this garden room and see the pathway ahead to the lantern focal point, you are beckoned forward into the garden.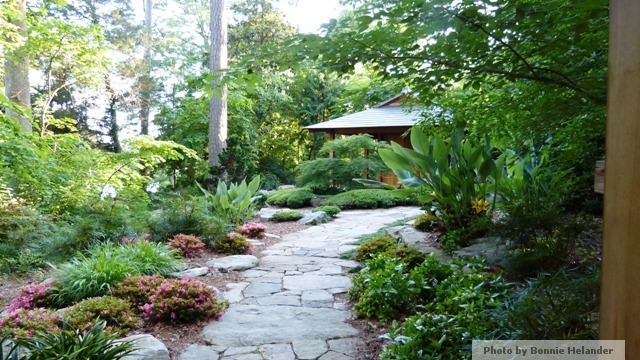 This tea house is partially hidden and entices you to explore further down the path.



4.    Incorporate water as a key component of the garden – Japan is a nation of islands and water is an expression of the sea which is an important part of the culture. The sound and movement of water is integral to this style of garden. You can go "big" by designing a lake with islands and a waterfall, or just add a small pond or simple water basin. Koi gives an additional splash of color and movement. An arched bridge is a charming addition over a stream or dry creek bed.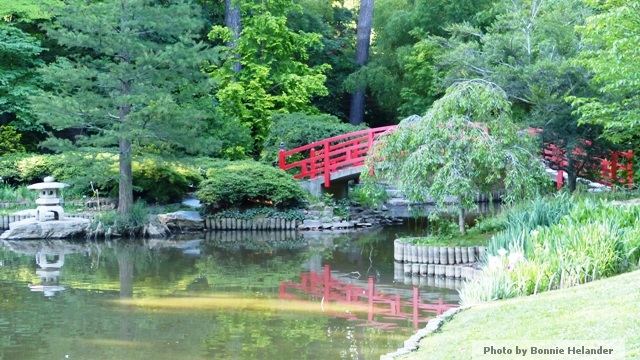 This stunning red arched bridge crosses a large pond in the Japanese Garden at the Sarah P. Duke Gardens at Duke University.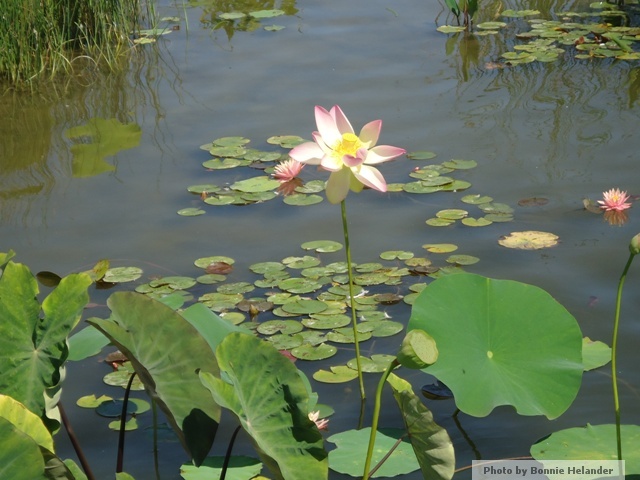 Water lilies and lotus add another touch of green with pops of color from the lush blooms.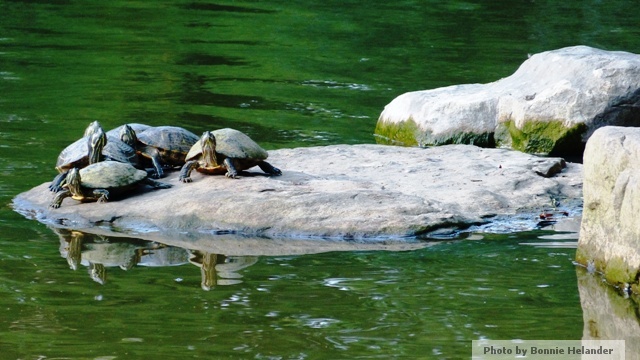 Turtles sun on boulders providing a place for wildlife and keeping visitors in touch with the natural environment.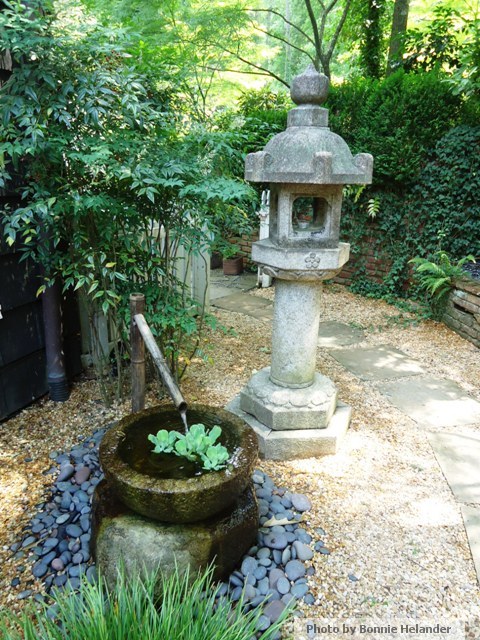 You hear the faint sounds of spilling water as you come around the curve in the path to discover this classic Japanese fountain and lantern.



5.    Design a traditional Japanese structure – A pavilion, tea house or pagoda offer guests a place to rest, reflect and relax.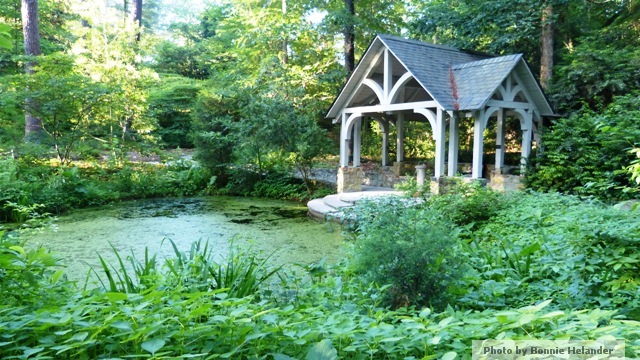 This pavilion tucked near a small pond is a quiet place of reflection.



6.    Add a raked sand and pebble garden for contemplation – The dry Japanese garden is a contemplative element where the sand represents the sea, the raking represents the waves and rocks and pebbles represent the shoreline.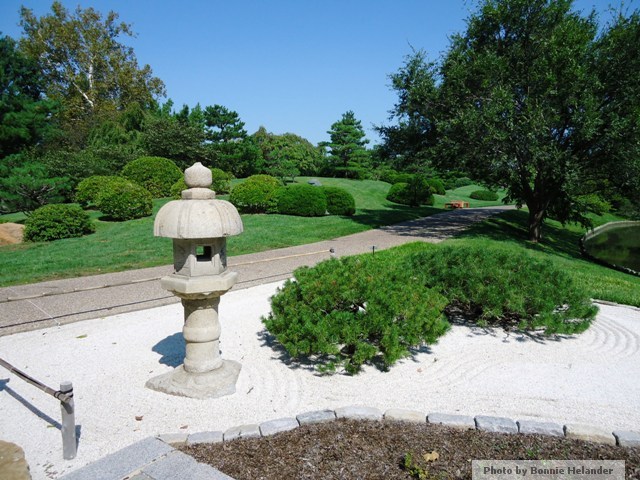 A raked sand dry garden is reminiscent of the sea.