| | |
| --- | --- |
| Posted by Author on August 6, 2013 at 9:00 PM | |
In more ways than one, the garden is a place for reflection. If the city and workplace is the realm of tedium, then it is in the unique refuge and seclusion of a garden landscape that one may contemplate life's more important topics and find room for self-reflection. In some gardens, placid, still bodies of water allow for another type of reflecting to occur as well. If you recall the Greek myth of Narcissus, you may be reminded of water's mirror-like quality; in that legend, the smooth surface of a forest pond allowed a young handsome hunter to fall deeply in love with his own reflection.

Image: Dr. Lisa K.
Observing reflecting pools in various settings across different states and continents, I have come to recognize them as compelling landscape elements. Reflecting pools come in a wide range of scales and vary in shape, depth, and proportions. Common among all of the examples that I have seen is the sense of dimension and visual interest that the mirrored surface of these ponds, fountains, and pools can lend to a garden environs.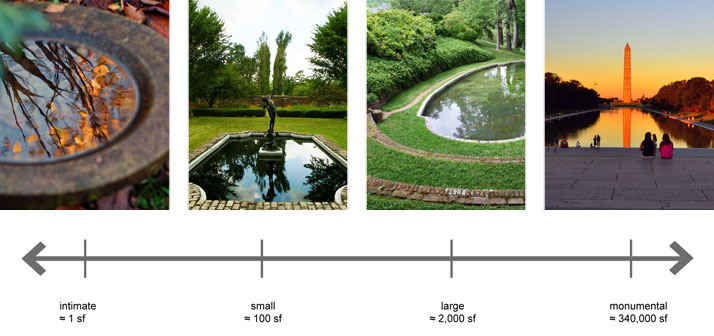 Images: Liz Delia, Glenn Fisher, Oddlittlebird, and Brian M.
If you recognize any of the above landscapes, it is likely that you find the precedents on the right end of the spectrum -- those reflecting pools that are the largest -- most familiar. I would caution the reader, though, from deducing that larger bodies of water are inherently superior. Even a modestly sized mirrored pool can quietly and elegantly hold influence in a garden.
When coupled with picturesque tree branching, seasonal color, architectural and site lighting, or landscape sculpture, reflecting waters can become even more visually interesting and engaging. In the same surface that Narcissus found the enthralling mirror image of his own face, you may be surprised to find the many beautiful new perspectives a reflecting pool will offer your garden. As the parable goes, the vain and conceited Narcissus met an unfortunate end in the pond's reflection, but if you take a moment to view the beauty of your garden in the still surface of a reflecting pool, you can be confident that your experience will be nothing less than rewarding.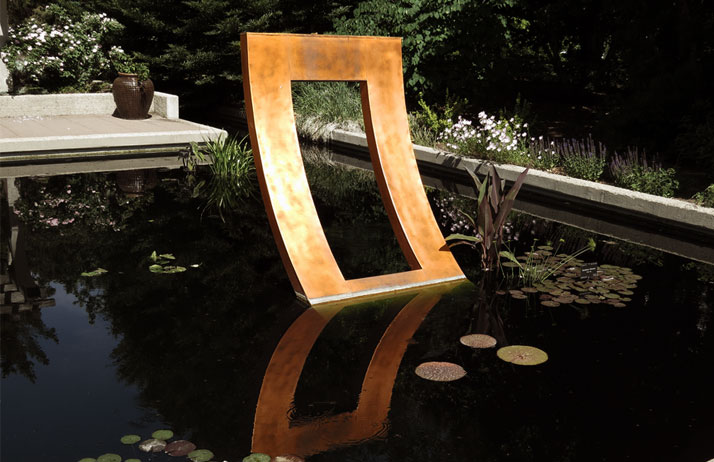 Image: Patricia Hensch