It's always fun to visit a garden and see something unexpected and fun that adds a little "tongue-in-cheek" personality. When I first visited a friend's garden years ago and saw a face container, filled with ornamental grass as the "hair," I was enchanted and hooked on finding some for my own garden. I love containers of all shapes, sizes, colors and textures. Face Pots add that little extra focal point appeal.


You can find interesting face/head containers at many local nurseries or gift shops that specialize in garden accessories. There are some wonderful online shops that feature a plethora of pots with personality that include classical faces, funny faces and even animal faces. Kids are especially charmed by animal pots and it is a way to get them interested in gardening.

Kids love pots with animal faces and bodies like this fish I have near my pond.
The appeal of the face pot is creating the hairstyle with plants. Ornamental grasses are a great place to start. Purple fountain grass (Pennisetum setaceum 'Rubrum') adds movement and a bright burgundy color. Japanese Sweet Flag (Acorus gramineus 'Ogon') is the perfect selection for a small face pot because it stays short while adding a nice color and scent. Fiber optic grass (Isolepsis (Scirpus) cernus) shimmers as the sunlight catches the blades for additional interest.
Spiky plants like cordyline (Cordyline australis 'Red Sensation' ) add a young, hip look to your face pot. Ferns add a more bouffant, classic look. Ground covers can give you long hair.  Add creeping jenny, thyme or variegated ivy for a flowing look. You can even add bulbs this fall for a surprise burst of colorful hair this coming spring.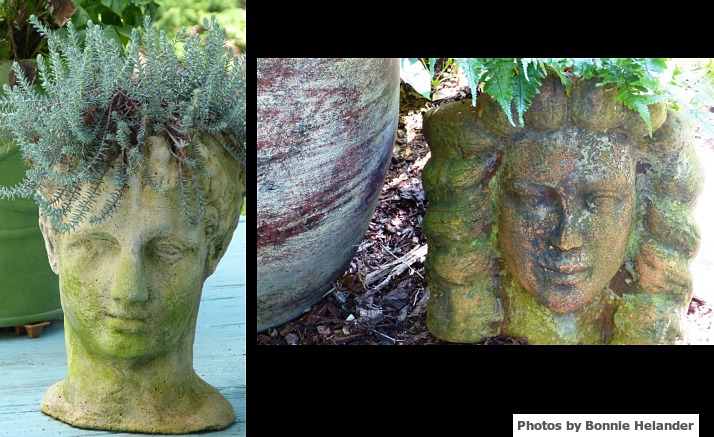 Two of my classic face pots -one with a spiky sedum and one with ferns. The "lady" was given to me by a friend, Judi Kubitz.  I love the patina of moss/algae on the pots after all this rain we have had over the summer!


My favorite plants to use in face pots are succulents.They just have that special sense of whimsy that adds extra personality to your pots.  Sedum, string of pearls (Senecio rowleyanus), hens and chicks (Sempervivum) haworthia and echeveria are perfect for face pots. These act as hair, hats or hair accessories in your container.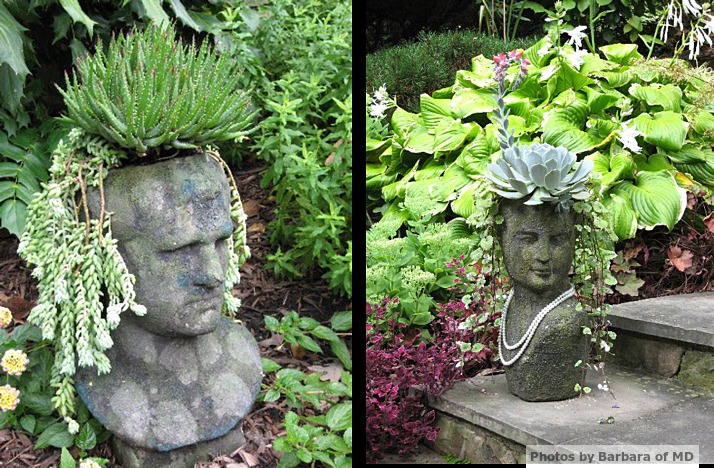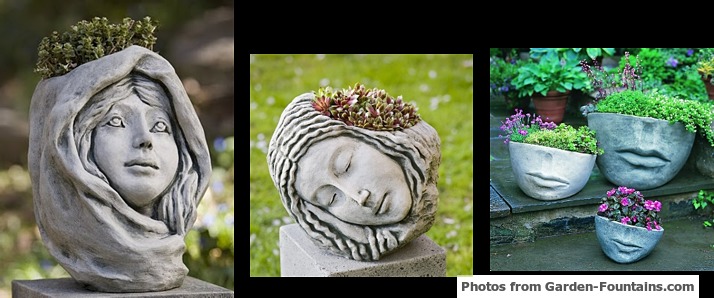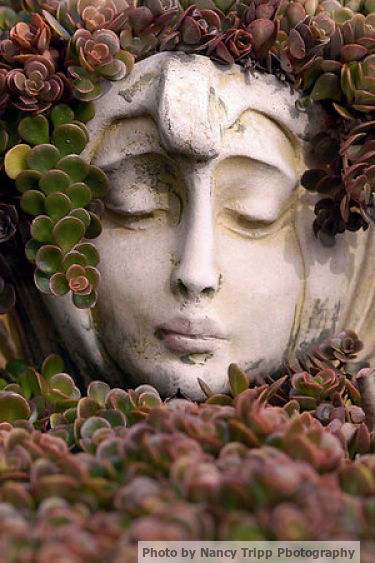 But who wants just a face?  If you want to get really crazy, use terracotta pots to make a whole pot man or pot woman  to take up residence in your garden.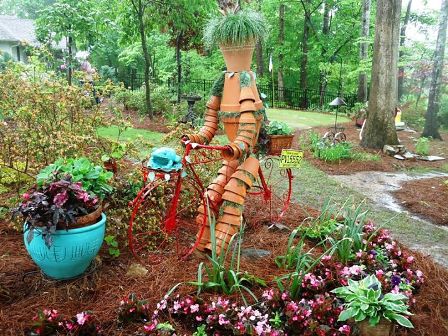 Pot Man created by my friends, Chuck and Janet Behnke, of Peachtree City