Images: Sam Valentine
Villa Lante is entered from the tight, archaic streets of Bagnaia near Viterbo, Italy. The grounds of the villa are split into a large, informal public park and a smaller, walled formal garden, but visitors to either destination cross through the same formal wrought iron gate.

Images: Rosalba Cantone and Sam Valentine
Arriving guests are presented with a conspicuous fountain (Fontana del Pegaso) and a choice - the fountain serves as a fork in the path to the public park or the walled garden. The fountain, elliptical and backed with a twenty-foot stone retaining wall, is centered around a pegasus and a small collection of other winged statues. Choosing the stairs to the left carries the visitor up alongside the foliated walls of the formal garden and, soon enough, to its entry.

Images: Sam Valentine
Passing through the walls of the garden between another pair of iron gates, visitors find themselves on a paved walk that quickly reveals itself as just one terrace of many; the garden at Villa Lante is an axial, stepped scheme laid over sloping topography. As it happens, this presents a visitor with a choice. To the left, downhill from the arrival terrace, the garden opens up into a flat, expansive landscape with forthright geometrical plantings overlooking the town. To the right, uphill, rises a series of stone stairs, crisscrossing hedge-lined paths, and more mysterious terraces shrouded in a dark forest canopy. I went right.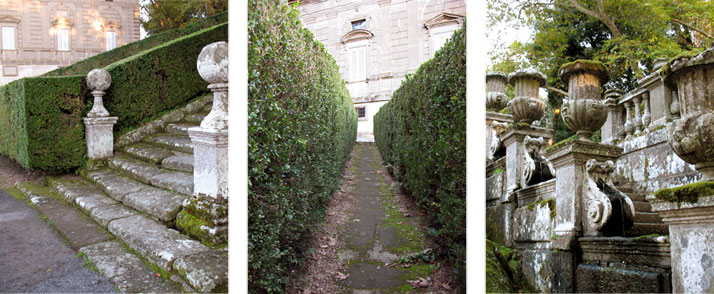 Image: Sam Valentine
There is an indescribable draw to climb the hill, and at the high end of the garden, I found what I was looking for. In a small courtyard surrounded by rusticated loggia walls, water crashes from elevated, mossy caves into murky waters. This, the Fountain of the Deluge (Fontana del Diluvio), is the upper terminus of the villa garden, but it is perhaps better understood as the "wellspring" of the entire landscape below.

Image: Sam Valentine
My next blog will trace the dynamic, downhill journey of water from this upper end of the Villa Lante to its conclusion at the garden's bottom. Looking back on my visit last year, I think of the path I chose through the garden -- first to the top, then to the bottom -- and am reminded of how one uses a waterslide. There is a scramble to the top of the ladder, a peaceful pause, and then a descent that carries one down alongside the flowing water.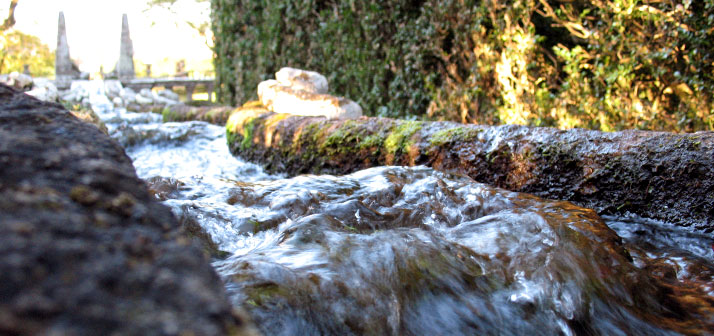 Image: Sam Valentine