Image: Andrew Magill
A taut line of string is something of a rare find in the designed landscape. Neither stone nor steel, plant nor paver, and wood nor water, string has material implications of fragility, impermanence, and tension.
In gardening and landscape construction, string and wire often serve a supporting role, but they are often kept backstage, intentionally concealed from view. Gardener's twine makes espaliers possible and trains everything from tomato plants to young trees. Mason's string guides the building of straight walls and is critical in laying out paths, concrete forms, and other hardscape elements.

Images: Monaghan Inc., Alan Buckingham, and Sparkle Motion
When strings get really interesting, though, is when they are put brightly on display. Perhaps the most commonplace instance of ornate string in a garden is the woven hammock. Popularized, if not invented, by ancient South and Central American cultures, hammocks become works of art when a web of colorful cords come together to suspend a resting body above the garden floor.

Images: Anna Ban, Lee Tishman, and Li Tsin Soon
Around the world, artists and designers have followed this thread on a larger scale, stringing their work significantly higher in a way that defines and redefines outdoor spaces.

Images: Elizabeth Graf and M. G. Stanton
Last year in Boston, the city's newest park system was treated to a months-long string installation by artist Janet Echelman. Tethered between skyscrapers, "As If It Were Already Here," became a colorful landmark, changing color with time of day and weather.

Images: John Hill/World Architects
This year, a young team of architects pulled fluorescent cords across a largely bare courtyard at the Museum of Modern Art (MoMa PS1) in New York City. Following the project's name, "Weaving the Courtyard," a young architecture studio brings the courtyard walls together with colorful lines that also serve to establish a ceiling for the space.

Images: Sam Valentine
During a visit to Old San Juan, Puerto Rico a few years ago, I approached the Galeria Nacional, an art museum housed in a stately but staid old monastery. Entering the central courtyard, I was surprised to walk right into an art installation. Using just string and cloth, artists Doel Fresse and Vladimir García powerfully and vividly redefined a 16th century building, and created this strong new character without any permanent alteration of the building.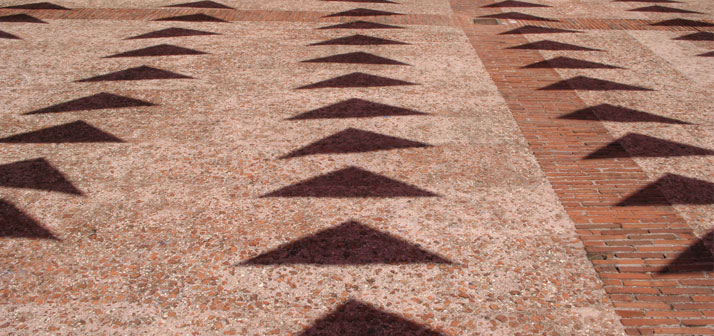 Image: Sam Valentine