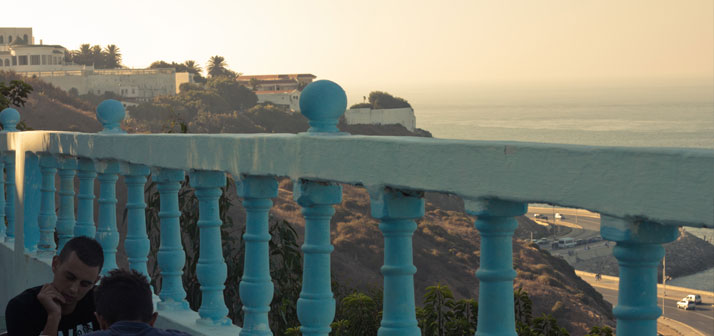 Image: Elena Svirya
Having landed in Morocco a few hours prior, my friend and I pushed through the bustling market streets of Tangier to find a good sunset perch. Our trek took us up and over hills, twisting through the ancient medina and past a few modern plazas. We had been tipped off to make a stop at the famed Café Hafa, and as we neared that pin on our map, we could feel an urban energy building.
People were descending in droves, arriving by foot, bicycle, and motorcycle on the oceanfront café that -- except for a quick read of a travel article -- we knew nothing about.

Images: Ruben Mediavilla Blanco, Bolbo Laan, and Alessandro Rumi
Entering between stuccoed walls, Café Hafa spilled down before us from the city towards the sea. As we soon realized, we were arriving at one of Tangier's best sunset-viewing venues, and doing so during Ramadan, when the day's fast is broken with the sinking of the sun. Suffice it to say we were not alone.
Café Hafa is situated on a precipice over 200 feet above the Mediterranean Sea. From this overlook, one peers out over the Strait of Gibraltar, and Spain seems so close one could (almost) imagine swimming to it. So close that it is easy to forget you are on African shores.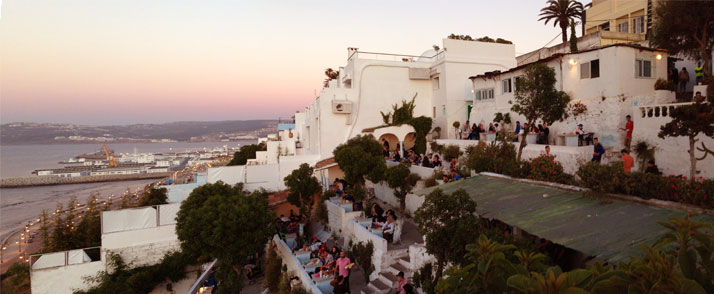 Image: Sam Valentine
The Café is more landscape than building. The interior shops are scattered and ancillary, places not so much to sit as to order and make payment. Meanwhile, the white-stuccoed terraces, narrow strips of masonry hugging the hillside, dominate the environmental experience. The construction is makeshift and the details quite crude. The stair tread widths and riser heights are each singular and unpredictable. The compartmentalizing walls are quite literally cobbled together. Overall the aesthetic is more ratty than refined, but somehow there is a dignified and durable undercurrent.
Each terrace is screened from the next, buffered by robust plantings of geraniums and seaside succulents. These plant masses create semi-private pockets for socializing, but they also frame views out over the Strait.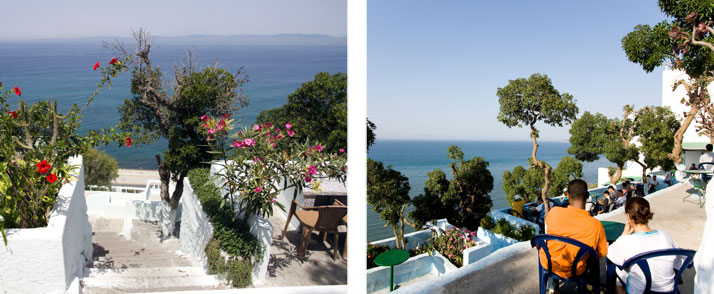 Images: Till Jacket and Xuoan Duquesne
It is rare for an American to see the sun setting over the Atlantic but arguably rarer for one to see an unpolished landscape in such high demand. As the sun sank, the Café endured as a vibrant social scene, with every chair occupied and a strong sense that the guests would linger well after their stomachs were full.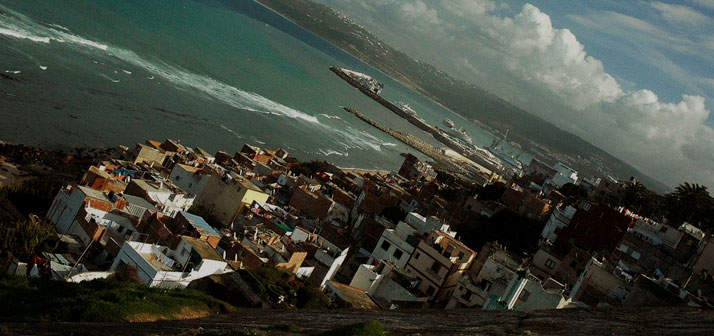 Image: Toni Pamuk