Image: Daniel Vorndran
With the high drama of waterfalls, craggy bluffs, and a cliff-top temple, Parc des Buttes-Chaumont could be confused with a theme park. Perhaps the artificial rock faces and the faux-bois contribute to this impression, but it is important to remember that the Parc has no carnival rides and no admission tickets. It is a park for all people.
On the summer day of my visit, the population of the park stood in clear contrast to the city's more talked-about landscapes. The Parc du Champ-de-Mars, Jardin des Tuileries, and Parc de la Villette were chock-full of park visitors, but between these people's palpable fervor and their clicking cameras, it was clear that a large proportion of them were tourists. In Parc des Buttes-Chaumont, on the other hand, the majority of people appeared to be locals. The neighborhoods on all sides of the Parc seem to spill into the landscape.

Images: Sam Valentine, Magdalena Gonzalez, and L'imaGiraphe
As a landscape architect, it is enthralling to see how parks are used. While it is clearly part of the job description to scrutinize topographic design, planting selection, and craftsmanship of such things as stonework, there is more to the story. What could be thought of as a layer atop the permanent, physical landscape is the human activity, or "social life," of a place. At Parc des Buttes-Chaumont, I saw quiet, intimate conversations on park benches, looping joggers and walkers, and children excitedly playing in the small rivulets.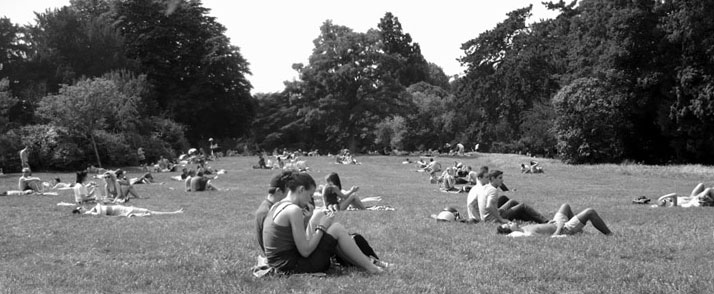 Image: L'ima Giraphe
Near the end of my expedition, I came across a wildly successful lawn on the south side of the Parc. Like Sheep Meadow in Central Park, this was a sunny, broad, and flat space full of picnickers.
O.K.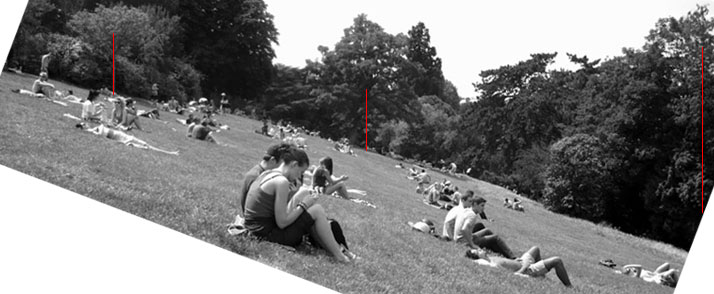 Image: L'ima Giraphe (modified)
I lied about the "flat" part. Tilted at what feels like a 45° incline, the lawn's topography is not typically the stuff of well-visited public landscapes. (I have trued the above image - the tree trunks are vertical.)

Image: Sam Valentine
As I scaled the lawn with my friend, also a landscape architect, we speculated why so many of the visitors were sitting at the top. It was puzzling, with plenty of open space downhill, why the park users would choose to crowd themselves in one place. The physical attributes of the landscape sprang to the front of my mind. Was the lawn drier at the crest of the hill? Is access easier because of a nearby road?

Image: Vladimir Prohorenko (modified)
Well, most readers know the disappointment -- whether at a baseball game or on an airplane -- of finding a seat with an obstructed view. The crest of this lawn puts viewers above the canopies of the Parc trees. Only after reaching the top of this hill did it become obvious that this social phenomenon was all about views.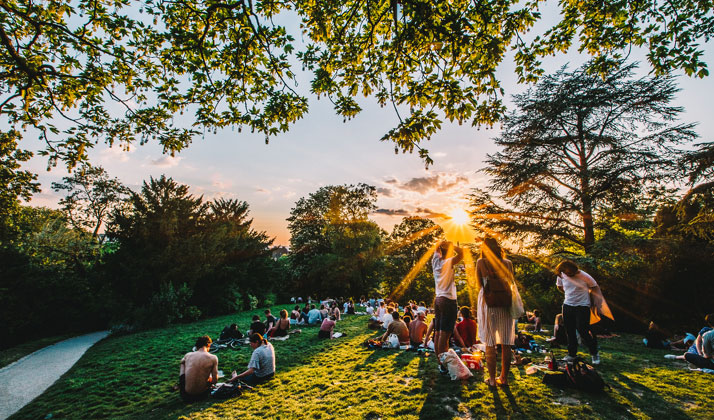 Image: Jérôme Baudet