The moment rain touches down on a typical building, mankind has fundamentally altered the natural water cycle of a site. Our roofs are successful at creating dry living spaces inside, but by sheltering from precipitation, rooftops incidentally collect and concentrate stormwater. For most buildings in the United States, a storm promises a gathering of rainwater in roof gutters and -- shortly thereafter -- a surging outfall at each downspout location.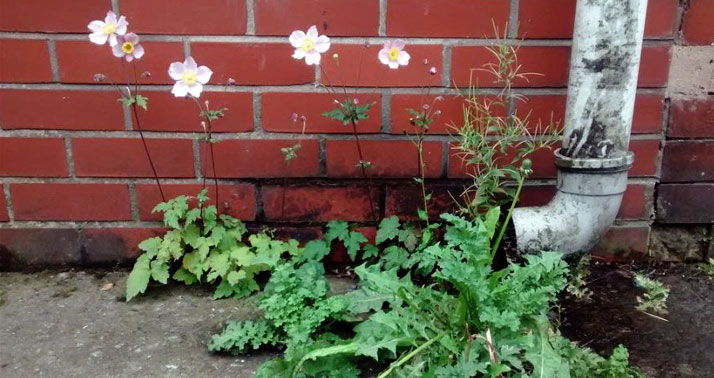 Image: Grifos
Though most builders still send stormwater down the pipe as if it's a nuisance, there's a steadily growing movement to rethink this water once it reaches the landscape. Many local governments, realizing the toll that concentrated stormwater volumes take on infrastructure, encourage "downspout disconnection." Rainwater harvesting, mostly in the form of rain barrels, has become nearly ubiquitous in the suburbs of America.

Images: Clean Air Gardening, Improvements Catalog, and Eric Hoffabee
It's certainly good news that every homeowner and building manager can "do their small part" to reduce development's overall impact on the environment, and due to their small size and low cost, these downspout interventions commonly take the form of DIY tinkers. Grassroots green-engineering is a beautiful thing from a social and ecological perspective, but from a designer's view, these small-scale retrofits often appear clunky, feeble, and incongruous with both the architecture and the landscape.

Images: ChannelGuard, InvisaFlow, and Marine Leroux
For example: all three of the splash-pads photographed above show a marked improvement over conventional downspout treatment. In each case, a retained strip of loose stones likely slows down stormwater runoff, prevents soil erosion, and encourages some amount of infiltration of stormwater into the planting soil. Despite the environmental benefits, each of these examples introduces materials that seem unharmonious with the site. These "orphan" materials match neither the landscape nor the building and exhibit high visual contrast. These splash-pads appear as an afterthought, and attract more attention than their builders probably sought.

Images: David R. J. K, Antalya Real Estate, and Evergreen Landscape
These next three examples (above) are more successful. These downspout treatments each achieve better harmony with their surroundings by evoking the natural stone of the landscape edging or the brick of the building face. Quiet, graceful integration of stormwater infrastructure into the landscape surface is a noble goal, but sometimes a solution can be buried from sight altogether.

Images: Keith Board, Phillip's Garden, and Jennifer Connell
Stormwater design gets most exciting, though, when the travel of runoff is expressed unabashedly in the landscape. At many contemporary sites a visitor can observe rainwater in motion and trace its path across the landscape.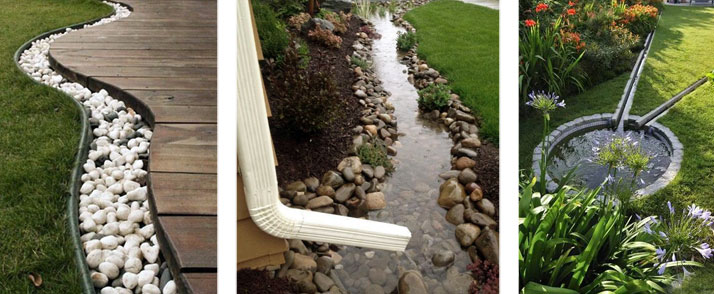 Images: San Francisco Better Streets, Zahradní Nábytek, and It's a Green Life
Next time rain falls, put on a jacket and take a walk around your home, office, or school. Are there missed opportunities to reduce your building's environmental impact? Can these same opportunities be leveraged even further into a landscape expression that is educational, ecorevelatory, or artful?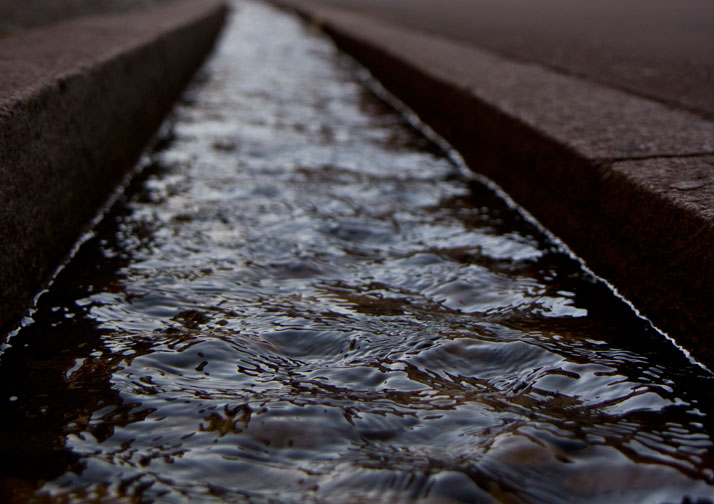 Image: Rob Faulkner